Hawks gear up for winter following a dominating fall season
By Jack Pearce
December 14, 2012
Winter sports are underway and the Hawks look to reign over the WesCo 3A South Conference.
Women's hoops hope to rebound and start a new era with a surplus of youth on the team and newfound confidence.
Men's basketball looks to follow up a 23-3 season and a trip to the Tacoma Dome with even more success.
Wrestling is once again a powerful force in WesCo in individual athletes, even though their record as a team may not reflect it.
Lastly, men's swim hopes to follow district triumphs by women's swim and send more swimmers to state.
Women's Basketball
Following a season where much of the varsity squad required many JV players to fill varsity positions, an influx of youth has rearmed a struggling program.
Full of young talent, the lady Hawks are still a year or two from being a WesCo contender; but don't underestimate the upset power of this team.
Behind the leadership of sophomore Samantha Romanowski and junior Maddy Kristjanson, there is an abundance of an ability to score.
The key for success this year is the younger players stepping up and making their presence known around the league as a force to be reckoned with.
Men's Basketball
Losing four seniors from their state caliber team last year, the men's Hawks return with a core of extremely talented athletes.
Junior posts Greg Bowman and Loren LaCasse are ready to break out as dominant forces. Blake Fernandez, Marquis Armstead and Jesse Zerom are ready to come back and once again dominate as one of the best backcourt combinations in the state.
Michael Lotz, who suffered from injuries much of last year, is also poised for a breakout year. Expect the Hawks to at least return to the WesCo playoffs, if not state, once again. Currently, the Tacoma News Tribune ranks the Hawks No. 6 in the state for 3A and the Seattle Times has them at No. 8.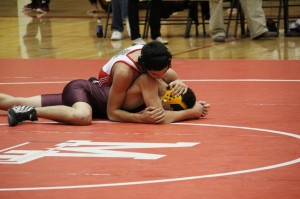 Wrestling
With at least three members likely to go to state, senior Trung Banh, junior Syd Springberg and sophomore Aaron Castleton, the  team will once again find many opponents being pinned rather quickly.
The only thing holding back the wrestling team from being competitive in WesCo is a lack of members, not a lack of talent.
This only hinders the squad in the overall record column, as they are forced to forfeit matches in certain weight classes.
In spite of this, several individuals are very capable of making it to the postseason.
Keep an eye on the wrestling squad to make some big throws, despite being handicapped with a lack of members.
Men's Swim
Led by captains Wyatt Allemann and Armen Nalbandyan, the team looks forward to a strong season.
On an average day, the team spends about 30 minutes working on their core strength with exercises like sit-ups and push-ups.
Allemann said, "What we swim varies from about 2,000 to 5,000 yards a day (approximately 1.25 to 3 miles)."
Race lengths vary from 50 to 500 meters.
In February, the WesCo and state-qualifying meets will take place as the Hawks fight for an appearance in the state tournament.