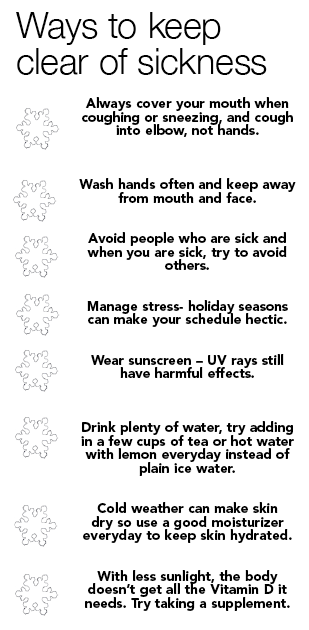 With the hot days of summer swiftly changing into the cold days of winter, our bodies have not yet had time to adjust and are more susceptible to illnesses, such as the common cold.
Symptoms of the cold include, but are not limited to, sneezing, coughing, watery eyes, sore throat, head ache, mild body ache and runny or stuffy nose.
There are over 100 viruses that can cause the common cold, but there are many things that can be done to prevent catching a cold.
One easy thing to do is keep warm; dress comfortably and layer up when heading out somewhere in the cold.
Another thing is to drink plenty of water. Keeping fluid levels up helps when trying to avoid getting sick. Drinking about eight glasses of water helps the body stay healthy.
Water flushes toxins out when dehydrated mucus will build up and  becomes thicker and much drier. This will make it harder for the body to fight against bacteria and viruses.
Since there aren't as many fresh fruits and vegetables in season, it is a good idea to take multivitamins.
Multivitamins are an easy way to prevent catching a cold by making sure your body has all the vitamins it needs to boost the immune system and protect itself against germs.
Eating well will also help fight off the cold. Zinc and Vitamin C are a great duo to fight off colds. Zinc can be found in red meat and oysters. Orange juice is a great source of Vitamin C.
Story continues below advertisement
The National Institute of Allergy and Infectious Disease recommends avoiding people who are ill and stay away from others while sick.
Try and avoid touching your face. If you do, make sure your hands are clean because cold viruses easily enter the body through the mouth and nose.
Even though it may be cold, getting some exercise this winter will also be a great immunity booster. To avoid the cold, switch up workouts from outdoors to indoors. If a workout has to be done outside, then make sure to dress warm.
Although getting sick isn't always avoidable there are things that can be done to insure a quick recovery and shortened symptoms.
While taking a warm shower, inhale the steam; this will help open your nasal passage and loosen any mucus.
Another thing that shortens the length of colds is adding good bacteria to the diet by eating yogurt or cheese.
Using these tips will help avoid getting sick, so take care this winter. Try and get plenty of sleep, dress warm and stay hydrated.