Nina Penner
By Gurminder Singh
June 13, 2012
Nina Penner, one of the most athletic track stars of MTHS, is a senior with many seasonal records in track. Penner said that she started track "in 6th grade when my PE teacher told me to go to an open track meet in Shoreline on Wednesdays."  She went to the open track meets and they inspired her to join. "I just found that I was good at something so I should pursue it," she said. Some other people that inspired Penner were the team, her coaches, and her family. Penner started out doing high jumping, long jump, sprinting events and longer distances like the 1600 meter run and 3000 meter run. Penner also participated in the 400 meter run and four by 400 meter relay, but she mainly stuck with the 800 meter run.
"I broke two school records. One is the 1600 meter (the mile) which, is now a 5:10 and the 800 meter (half a mile) which is now 2:16," Penner said. She has achieved a lot in track, but there are a few that Penner is very proud of, one was when she placed 8th in state, that was her best achievement because she had worked really hard all year towards placing state. Another one Penner said was, "most inspirational from cross country because I like to think that I really do inspire others not just to run better, but show sportsmanship as well."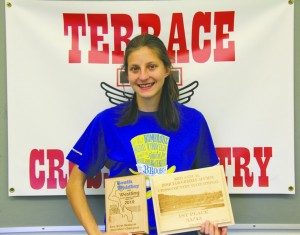 "I'm going to Everett Community College next year with a 40 percent off tuition athletic scholarship," Penner said. Penner had signed a letter of intent for the athletic scholarship, and she is planning on to continue to do track in the Everett Community College.
Other than track, Penner said she likes to "go hiking, read, play video games, have philosophical conversations, canoeing, climbing trees, swimming, sword fight, camping, jumping on the trampoline, watching community, eat Thai food and pho."