Bradley Koplitz
By Gurminder Singh
June 13, 2012
For high school, I wanted to reinvent myself, I've always been kind of shy, so I wanted to make myself be present and be a leader. I didn't just want to graduate high school with no one knowing who I was or what I did," said Bradley Koplitz.
Koplitz would come to accomplish this goal and become the HBN director, varsity golf captain, student of the month and a future WSU attendee in this year alone. Koplitz is also an AP student, in Chamber Winds and GSA and received a summer scholarship for guitar at Berkley College of Music after his sophomore year.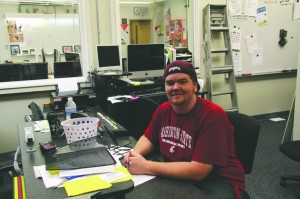 He wasn't always this active during his earlier high school years. "As a freshman, I did basically nothing. Just woke up, went to school, came back home, ate and watched TV," said Koplitz. However, the following year, all of that  began to change. "As a sophomore, I went to GSA more often. That year I also took (Angelo) Comeaux's Video Production class and fell in love with it. I loved editing, filming, writing, every single aspect of it. The coolest part was seeing my finished product up for everyone to see," said Koplitz.
Despite receiving various awards during high school, two achievements have held the most meaning to him, Koplitz said. "The CTE award of excellence last year from the school district was rewarding because all year I didn't feel important since I wasn't the director or anyone in leadership. I was just working in the sidelines and nobody noticed me or saw me as the face of HBN. This award made me realize that others recognize my work and it helped motivate me for this year."
The second accomplishment was the letter in varsity golf he received this year also held a lot of significance to him. "Three years of hard work was building up to this one moment when I got it at the golfing banquet. It was such a great way to end the season this year and exactly what I needed. I didn't realize why I was the captain until I got that award. I wasn't the best golfer on the team, but I was always there to  help out our coach with whether he needed it."
When looking for colleges, WSU wasn't Koplitz's first pick since most of his family are Huskies. But, he found out that WSU has "the best broadcasting program in the nation and an excellent political science program."
"By the first time I took a tour of the university, it was done. I didn't apply to any other college. I just came off the campus thinking 'This is where I want to go to college,'" Koplitz said. Koplitz plans on getting a Bachelor's degree in political science at WSU and major in pre-law and minor in history. Afterwards he plans to apply to the UW law school.
"Hopefully I can also do some video or radio broadcasting on the side during the weekends and volunteer when help is needed, but I think Law is going to be my focus."
For the summer, Koplitz simply plans to hang out with this friends and relax before going into college this fall.