Kristaq Zherdi
By Shannon Beaumont
June 13, 2012
Building houses, finishing his senior project, and now in the very process of graduating high school, Kristaq Zherdi has had a crazy year. The one thing that kept him focused through the year was his passion for playing guitar, which he even used for his culminating project as composing an original song.
A few years back, Zherdi picked up his acoustic guitar which sat in his room collecting dust for a year and started strumming some chords, slowly teaching himself how to play by listening to music and through a metronome for ten hours straight. The process of learning how to play was pretty easy, which he said, "It just came kind of natural to me in a way."
Since then, Zherdi barely puts down his guitar except for when he works for his friend's dad with building houses. During his junior year and half of his senior year, he worked at Fred Meyers, but said, "I don't like doing the same thing every day," and so he quit.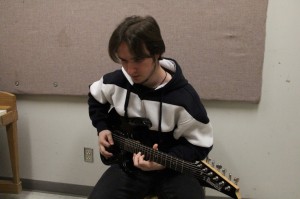 Later on, his friend's father was talking about needing help with building a house. Seeing the opportunity, Zherdi volunteered which he was willing to work without getting paid. On his way to helping build, his friend called him and asked how much Zherdi wanted to be paid for his work put forth, which surprised him. Since then, Zherdi has been working for his friend's dad with regular pay at building houses.
While learning a new song, Zherdi teaches himself by listening to music and slowing down the track so that he is able to learn the notes. He then proceeds to play them over again, keeping the notes well and in order. Then he works at speeding the song up while playing it at the original pace.
Over the years, Zherdi's collection of guitars has grown, adding four more different kinds of guitars to his collection. His favorite guitar that he has is the one he plays the most; a custom guitar that he bought for $600, although he had to replace some parts. Zherdi said, "Through the years while practicing, I would look back and say, I'd tell myself, 'Oh, that song just took hours to learn,' and now only takes me like ten or fifteen minutes to learn. And I can learn a lot harder songs a lot faster."
After about four years of playing guitar, Zherdi decided to make an original song for his senior project, which led him to choose to play guitar as a hobby rather than a profession. After all the months of work, Zherdi realized, "Creating your own music is the hardest thing to do when playing guitar." He's not sure what he wants to take on as a career, as he believes those who don't plan out their life ahead of time have more options to do with their life. He'll be going on to Edmonds Community College next year to focus on potential ideas of work while keeping his guitar by his side when he needs a break.