Pooja Jaradi
By Will Khadivi
June 13, 2012
You may know Pooja Jaradi as the hard working and smiling teen who is graduating this spring, but what is really behind that smile that she so proudly wears? Wearing a beautiful blue sari during Cultural Week, she danced at the foot of the stage, adding her cultural background into the dance making the routine unique.
As well as presenting her culture in her own way, she has also been a member of ASB since her sophomore year, and was the treasurer of her class for two years before she became the Interhigh treasurer. "I joined ASB my sophomore year, so I was class treasurer my sophomore and junior year," said Jaradi.
No matter how you know Pooja, she is definitely one of the most active members of the Class of 2012.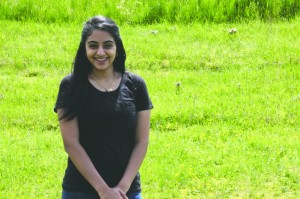 Jaradi has a passion for music and dance. She has played the flute in band ever since 5th grade and has been dancing her whole life. "It kind of runs in my family," Jaradi explained. During her sophomore year, she joined the Hip Hop team at MTHS and appreciates being apart of the family.
"When I was little, my mom used to teach dance classes. I did a few of them. We kind of stopped because I got busy with other things. I became really shy, I didn't dance in front of other people after a while. I joined Hip Hop and started dancing again. All my aunts and uncles danced and my mom danced," said Jaradi.
As the treasurer of her class for two years, Jaradi helped plan to execute fundraisers and events. This year, as Interhigh treasurer of the district, Jaradi helped make things like Macho Volleyball, the food drive, and P.P.P. enormously successful as well as making them big hits. This year, Jaradi took on new challenges juggling her classes, maintaining a job at a restaurant, and yet still being committed to all of her activities.
Next year Jaradi will be attending Washington State University where she hopes to become a pharmacist or veterinarian. "I like to help people," Jaradi explained, which is exactly what she plans to spend her life accomplishing.