Despite his numerous accomplishments and activities throughout his high school career, Shawn Semana's defining qualities are his humility and creativity.
Born in San Luis Obispo, Calif., Semana moved to Washington when he was 11 years old. Although he admits that it was a difficult transition, he was able to find success in a wide range of activities. After moving to Washington, he quickly became involved in hip-hop dancing during his middle school years, something he would continue into high school while also becoming the captain of the breakdance team.
Semana, who has been playing the trumpet since 6th grade, was a member of the MTHS Chamber Winds and Jazz Ensemble 1 in his senior year. In May, he and the jazz band participated in the Essentially Ellington Jazz Festival in New York City, an experience that stands out as a highlight of his high school career.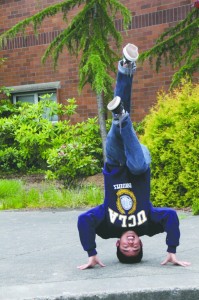 "All that hard work finally paid off and getting to play on this giant stage in New York City was amazing," Semana said.
Although Essentially Ellington made his senior year particularly memorable, Semana also proved himself to be a creative and dedicated leader as ASB historian. Attempting to "change the tide" of ASB's role in the school, he reached out to various groups, made films for ASB and planned entertaining assemblies.
"I was afraid to work with [my fellow Big 6 members] at the beginning but it turned out we made this year the best that it could be, without killing each other," he said.
However, his senior year was not without difficulties. Semana was determined to attend the Naval Academy and was advised to have surgery on his toes to increase his chances of getting in. As a result, he spent most of the swim season, despite being team captain, in a wheelchair. "I had the surgery because I got into the Naval Academy. There was a misunderstanding and they told me to have surgery on my toes because they said I wouldn't be able to run," Semana said. In the end, the Naval Academy did not accept him, prompting Semana to apply to UCLA, where he was rejected during the first round of admissions. But, a few months later, he was offered full tuition through the NROTC. Semana, who plans to study naval or aerospace engineering, hopes to join the Navy after college.
While achieving a 3.985 GPA in AP and honors classes, he also found time to pursue his interest in filmmaking. His film took home the top prize at last year's humanities film festival. Semana also ran a duct tape wallet business for his senior project and volunteered at the Seattle Aquarium. He has made films for both the business and aquarium.
"You could say my movies aren't funny. I can't do really funny. It's more of an emotional journey," Semana said. "I try to get [my audience] to learn or realize something that they didn't realize before."
Story continues below advertisement
And that is what, in essence, characterizes him best. Semana has a deeper understanding of himself and the people who surround him. He speaks modestly about his own accomplishments but always looks out for others. Semana has had his fair share of memorable experiences so far but, with endless ideas and possibilities, he'll be sure to encounter many more as he heads off to UCLA this fall.