Behind the curtain with Jocelyn Leggett
By Nazia Khan
November 2, 2012
Some people may have a difficult time deciding what they are going to do after they graduate from high school, while others may figure it out in college. For those who know their journey after high school know exactly how they want to achieve that goal in life. On the other hand, there are those who may find their passion just by pure luck. Sometimes, the future can even be determined in the most unlikely of places such as being put into a class that wasn't originally a first option.
Jocelyn Leggett is one of the few people that a little class overflow was affected greatly by. For the people that know Leggett, they know she is a hard worker and very dedicated to what she puts her mind to.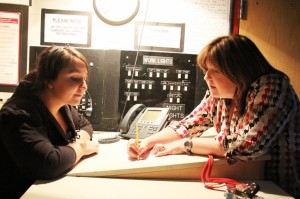 Leggett was put into Jeannie Brzovic's drama class her freshman year because her French class was full. Some may not be too happy by a schedule change that dramatic, so to speak. Luckily for Leggett she fell in love with the class.
The award-winning MTHS drama department has many dedicated people who work behind the scenes to make sure a show goes right; Leggett is one of those many people. She stands out for several reasons. Not only has she been an outstanding stage manager since her junior year, she keeps everybody cool, calm and under control during the hectic times in rehearsal and show nights.
Normally high schoolers have a full plate with just having six high school classes and an extracurricular activity. Leggett, who is also a Running Start student, has to juggle memorizing lines for an upcoming play, working as a stage hand or working on plans to make the show best that it can be still has time to keep a healthy sleeping schedule. Most people would probably think that it is too much work at one time, but not for Leggett.
"It's as simple as having an organized calendar and a phone to communicate with all the people in charge. You just plan and plan everything monthly and weekly and then by the hours; just work down. Seems hard but it's not. It's a piece of cake," Leggett said.
Not only does Leggett work intensely hard for the MTHS drama department – five shows and counting since her sophomore year – she has worked as a stage manager for the musical "13" and  was a part of the crew for "Joseph and the Amazing Technicolor Dreamcoat" at the Edmonds Heights Theater. She has also worked backstage for "My Fair Lady" at the Lyric Light Opera.
When asked why she loves drama, Leggett said, "First and foremost, I love the theater. I love telling stories. That's my biggest enjoyment in life; telling stories and I also love working with the people. The people are the biggest reasons why I'm in it."
While stage managing, Leggett spends more than 100 hours per show working with the cast and crew, getting everything ready and making sure everyone knows where to be, what to be and when it needs to be done. Sometimes they can be in the school building for more than 12 hours a day to prepare for an upcoming show. In all the hours that the cast and crew spend together, they become such a big family, "You have to love them." The people are what Leggett said she would miss the most after she graduates. Leggett's "drama momma" Jeannie Brzovic, is one of the people she will miss most after she graduates on June 13.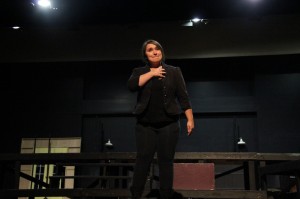 Mariah Bittinger, senior, said about Leggett, "I think  she is a great one [stage manager], she is really professional and always wants to get the job done right the first time, and she and Amber [Hamman, assistant stage manager] work really well together on getting everything done and making sure everyone's where they're supposed to be and if you're not here you are supposed to be, she'll come after you."
Finding something that somebody loves0 can be found in something as simple as moving a set piece on and off the stage. A set piece in "Almost Maine" was the reason she fell in love with drama. Leggett's favorite part of being in drama is "having that person in the audience come up to you and say that was a very good job, thank you. It's nice to know somebody appreciates you."
As of Oct. 28, Leggett became the production stage manager for a professional  show held at the 5th Avenue Theater called "The Music Man Project" which starts on Mar. 22 and 23.
Earlier this year at Roosevelt High School, auditions were held for performing arts colleges and universities. She got callbacks from six of the schools she had performed for, including the New York Conservatory for the Dramatic Arts.
Although on Oct. 31, she found out that she had gotten accepted to the design and technology department of the Northern Colorado School of Theater. If she decides to attend this college, she would still focus on stage management.
"She seems really determined and she knows how to handle everything, and she has the motivation to get things done," said Bittinger about Leggett.
The drama department this year has a lot in store for keeping the community entertained. The troup is putting on two comedies, including a very popular play by Neil Simon called "Fools." Not to mention, Leggett is one of the six leads for their very next show, a sorrow filled tragedy called "A Piece of My Heart" set during the era of the Vietnam War.
For the people who would like to join drama, it's as easy as going to the club meeting or going to an audition for an upcoming show. If you have a free period, are in need of an art credit, or just want to get involved in drama,  there are beginning and advanced drama classes, as well as classes for theater tech, for those who would rather work back stage.
Leggett added, "I like theater because it's not just a place to escape to when you want to leave real life. Theater is evolving these days; not just as an entertainment form, but it's actually becoming a source of media. There are more people going into the theater and coming out actually learning something that they didn't know before. It's beautiful. I want to be apart of that after high school."