Reasons why President Obama deserves a second term
By Will Khadivi
October 10, 2012
This election is a choice on whether our nation should continue moving forward or go back to the failed policies of conservatives like George W. Bush. That may seem like a slogan from the Democratic National Convention, but it is entirely true. President Barack Obama deserves a second term.
It was the Obama 2008 campaign that captivated so many youth across this great nation and around the world. Finally, someone who made politics exciting with big progressive ideas who wasn't an old white guy.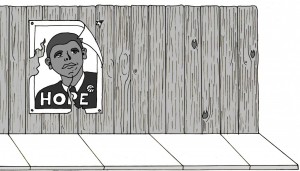 Immediately when President Obama took office in 2009, he took action on the economic crisis. The month after he took office, he signed into law the American Recovery and Reinvestment Act. The Congressional Budget Office estimates that it created or saved 3.7 million jobs since it's been enacted.  It also helped stabilize the economy, which has been out of recession since 2010. Since Obama has taken office, 5.2 million jobs in the private sector have been created.
The next major policy that Obama tackled was healthcare reform. We've been talking about overhauling our nation's healthcare system since the time of Franklin Roosevelt but we were finally, finally able to do something about it. "Obamacare," though not perfect will give healthcare coverage to an additional 30 million people by the time it's fully enacted in 2014.
President Obama also signed into law the largest and most comprehensive reform of Wall Street since the New Deal and that will end "too big to fail." He also saved the American auto industry with his bailout which saved more than one million jobs across the nation. In addition to the auto bailout, 459,000 jobs in manufacturing have been added since January 2010.
President Obama has taken strides towards equality in America. He signed into law the Lilly Ledbetter Fair Pay Act to help ensure that women will get fair pay for the same amount of work. He also repealed the homophobic policy of the military, "Don't Ask, Don't Tell" which barred gay and lesbians from serving openly. He also as advocated for the repeal of the Defense of Marriage Act and now says he thinks "same-sex couples should be able to get married."
Some of us in the Obama generation would now denounce that title over the frustration that not everything he had promised eventually came through but that's to be expected. You can't clean up eight years of crap in four years especially when Republicans openly say that their number one priority isn't to help you get the nation back on track but to make sure you're defeated for your second term.
Though I'm still frustrated with the president for not fulfilling all of his promises, especially on issues such as the minimum wage and campaign finance reform, I realize I should be more frustrated with congressional Republicans for not being willing to compromise with the president on any issue and making it their top priority to defeat him, not to create jobs, not to get our nation back on track.
If you're still doubting who you're supporting in this election, keep in mind that though everything candidate Obama promised has yet to come through, Osama bin Laden is dead, General Motors is alive, unemployment is back below 8%, America has repaired it's reputation in the world, and we are moving forward. If you're unsatisfied with that record then you're either arrogant about how politics work in this country or you just have really high expectations. If you think Mitt Romney would do a better job in four years, you're living in a far-right conservative fantasy land.