Hawks remain in gridiron playoff hunt
Sometimes it feels better to be blown out than to lose a nail biter.
Unfortunately for the Hawks, that was the case on Friday night as they simply ran out of time in a heartbreaking loss to an undefeated state ranked Meadowdale Maverick team, 17-14. The Mavs were ranked third in the state coming in to the game.
A controversial measuremnt call against the Hawks, forced a fourth-and-inches situation with less than two minutes to play in the fourth quarter. On the following play, an offsides call made it a fourth down and five yard situation.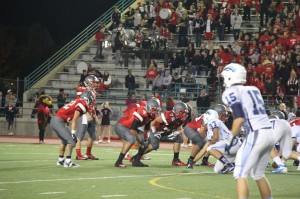 Quarterback Beau Kennedy's pass fell incomplete while under heavy pressure from an extremely large and physical Meadowdale defensive line.
Some tough luck gave the Hawks a talented Meadowdale team for their Homecoming game, and while the attitude of the crowd was excitement over Homecoming, there was a sense of dread and almost expectation that the Mavs were about to smack the Hawks into oblivion.
But the Hawks had something else in mind.
While the Mavs were bigger, faster, and stronger than the Hawks in nearly every position, the Hawks outplayed them in nearly every way. Even though Meadowdale players spent ample amount of time watching film on the Hawks offense, junior running back Devante Downs specifically, the team still found ways to make some big plays.
Whether it was outsmarting a cocky yet powerful team or simply making a big play, the Hawks found ways to score.
One of the best examples of this was the hook and ladder play late in the second quarter. Following a timeout with 3:45 left in the half, Kennedy threw a quick pass to Quintin Barnard who, while being tackled, perfectly executed a toss to Chance Ragsdale who ran the ball all the way to the Mavs 8 yard line.
Two plays later the Hawks tied the game at 14-14 with a Kennedy rushing touchdown.
The entire drive was run so perfectly and smoothly it almost looked like it was from "Friday Night Lights."
This Maverick team was no slouch, with their lowest scoring games this season against the 4A Edmonds-Woodway Warriors (4-2) and WesC o South conference rivals the Glacier Peak Grizzlies (5-1).
Their next closest game during the regular season in the past two years was against none other than the Grizzlies where the Mavs still cruised to a win by a score of 34-17.
The Hawks have shown their ability to compete with any team they face. After falling in a heartbreaker to Lynnwood 21-20 in last year's Homecoming game, the Hawks scored early and in bunches against the Royals this year winning easily 42-0. No other team has shut out Lynnwood this season.
After the Royals came the (then ranked 5th in the state) Glacier Peak Grizzlies.
There have been just two games in which the Grizzlies failed to score 40 points. One came  against the defending state champion Bothell, the other coming against none other than the Hawks.
The final score of this tough loss was 16-13, with the Hawks rallying to score 13 points in the fourth quarter, but coming up just short.
Luckily, the next game for the Hawks was against an easy Everett Seagulls team. While Everett really isn't a fair measurement of how good a team is [they are 0-6 on the season], it should be noted that no team besides MTHS has shut out the Gulls.
The Hawks scored early and often against Everett, leading 41-0 at halftime before easing up and giving mercy to a battered Everett team with a final score of 48-0.
The Meadowdale and Glacier Peak games were very similar for MTHS. They were both against state ranked teams, and in both games it came down to the wire with only a three point deficit.
Yes, the Hawks have four losses. But two of them are against state ranked teams, with a combined score difference of six points. Glacier Peak has outscored opponents by a total of 216-127, a difference of 89 points. Meadowdale has destroyed most of their competition by a total of 396-106, a difference of 290 points.
And yet just six points seperated the Hawks from two victories.
Coming into each game, there wasn't much faith that the Hawks would even compete. And now should be the time for students to start to believe in this team.
In spite of the Hawks have outscoring opponents 154-100, they still have a 2-4 overall record, and an 0-2 conference record.
This is a time where a record in football should be similar to a pitcher's record in baseball-it doesn't tell the whole story. A pitcher with a 10-10 record could be better than a pitcher with a 15 wins and 7 losses.
Unfortunately, wins and losses are what makes the playoffs, so it's not possible to completely negate the fact that they are indeed losses. However, the Hawks still have a very good shot of making the playoffs.
Right now, MTHS is tied for last place with Shorewood in the WesCo 3A South conference [although only two conference games have been played by most teams]. On Friday, the Hawks play the third place team, Shorecrest.
Shorecrest (2-4) is a must win game. The Scots two wins have come against Cascade (2-4) and Shorewood (1-5). Shorecrest was dominated by Meadowdale 42-6, shut out by Glacier Peak 56-0, and shocked by Lynnwood (2-4) 26-6.
It doesn't take a sports genius to realize that the Hawks should be an easy favorite to win this game.
After Shorecrest comes the Shorewood Thunderbirds. To put it this way, Shorecrest beat Shorewood 23-17, Marysville-Getchell (3-3) won 16-7, and Cascade pulled off a 20-12 win. The T-Birds only win has come against none other than the Lynnwood Royals 14-7. This gives the Hawks a very good chance to finish the season strong with back-to-back wins to try to force their way into the playoffs.