Residents and city officials got their hands dirty on Sept. 15 for Volunteer Park Cleanup Day. Nearly 20 volunteers gathered to clean Terrace Ridge Park, located at 4600 242nd St S.W.
Terrace Parks Services and Property Management Superintendent for the city of Mountlake Terrace Ken Courtmanch was in charge of the volunteering event. "We have done volunteer efforts in the last number of years, and in spring we held an annual event here," Courtmanch said. "So, as a follow up one for fall we decided to finish some of the work that we started in the spring and continued to work and head up to the north of the park to start clearing out some of the ground," Courtmanch said.
Volunteers were enjoying the hard work they we're putting in to help the community. Dan Jurgensen heard about the cleanup from his daughter and said he enjoys doing volunteer work because of "community spirit." He said, "it's very satisfying."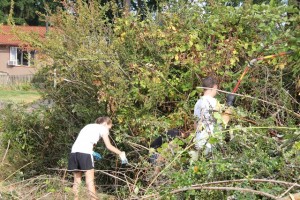 Many of the volunteers had done community service before, including Linda Rogers, the chair of the Recreation and Parks Advisory Commission. The commission holds fall and spring clean-ups at different parks. Rogers said she was there to help, "partly because I'm on the commission, but partly because I believe in keeping up our parks and putting in what effort I can to help make that happen." She has been helping with park cleanups in Mountlake Terrace for quite a number of years. She enjoys being able to get out and do things because her primary function is in the office. "It's giving back to the community and that's what I really value."
For some people, such as Dan Rowe, this was their first time participating in a community service event. He was there with a friend and said he was "having a blast" and he would like to do more volunteer work in the future.
It wasn't only adults giving a helping hand, there were also a couple of teens who belong to the same girl scout troop. Elizabeth Jurgensen says she enjoys doing community service. "I like helping the community," she said.
One volunteer came from as far away as Bremerton. His name is Rick McDow and he is an employee for the Parks Maintenance Department for Mountlake Terrace. McDow said he comes to the cleanups because "it's nice working with the citizens."
There may not have been as big a turn out as the spring clean up, but there were enough hard working people to get the job done.
Story continues below advertisement