As the Waste Management Teamsters strike continues, garbage, recycling and yard waste throughout the area is piling up.
Waste Management announced that Mountlake Terrace, and 18 other cities would again not receive any service today. The post announcing the service cancellation also said "Waste Management will collect additional material on your next regular service day at no additional charge and are working diligently to expand our service capacities." Marysville was the only city in the area to receive yard waste and recycling services.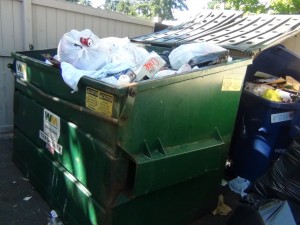 A statement by Waste Management said "Waste Management sincerely apologizes to our community for the inconvenience caused by the Teamsters strike. We are working diligently to resume services throughout Puget Sound."
But Teamsters unions have said that Waste Management is not making any new offers. "Instead of negotiating, Waste Management is moving forward with a plan to put hundreds of out-of-town strikebreakers on the roads in Seattle-area neighborhoods," according to a release from Teamsters Local Unions 117 and 231, which represent workers from Waste Management.
Waste Management announced that "additional WM substitute drivers continue to arrive, which will provide additional service capacity." However, this doesn't mean full service has been restored.
Both sides are not budging in negotiations. Waste Management stands by their offer that "compensates our drivers with substantial wage and benefit increases, totaling over $98,000 in overall compensation in the final year of a six-year contract."  The deal was rejected by Teamsters unions.
Cities in the area are putting pressure on Waste Management to reach a deal and restore service. A statement from the City of Seattle called to attention the possible fines Waste Management could face because of the inability to provide service. After a week of continued interruptions, the city can fine Waste Management up to $1.25 million for everyday that service is missed.
The City of Mountlake Terrace updated that they are working with Waste Management to have them restore residential garbage collection, perhaps as soon as tomorrow, Thursday, August 2, though this has not yet been finalized.
In addition, the city has been working to secure large containers from Waste Management for the community, however so far, Waste Management has not confirmed this option. The city's preferred option is to restore garbage collection for our residents on Thursday. Residents will be notified via telephone, website announcements and social media once a solution is confirmed.
UPDATE: As of 7 p.m. on August 1, Waste Management and Teamsters Local 117 have reached a tentative agreement. Services will resume on the next day, August 2.
As of 12 p.m. on August 2, Waste Management has stated, "Mountlake Terrace residents will receive full solid waste collection (garbage, recycling and yard waste) on Saturday, August 4 in lieu of garbage only collection on Thursday, August 2."
Story continues below advertisement