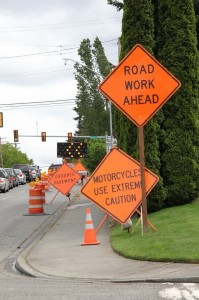 The 212th St. S.W. construction has been causing staff and students headaches ever since it began on April 23. The cities of Mountlake Terrace and Lynnwood are working together on the overlay project, with construction costs an estimated $1.08 million.
Funded mainly by a Federal Highway Administration grant, the project will repair parts of the previous cracked, damaged road.
"The existing pavement was failing, with a number of pavement patches for utility installations, including a trench patch that extended the full length of the project," City Traffic Engineer Janet Hall said.
Street repairs weren't the only renovation included in the project. "Drainage and sanitary sewer repairs were also needed on this section of roadway," Hall said. Once the upgrades are completed, the sewers will become increasingly sanitary.
The construction, which is only a block away from MTHS, has had a direct impact on staff, students, and residents of the area. It has forced many students to find alternative routes to get to school.
"We have to take detour routes and it takes us longer to get to school and back home," freshman Jessica Acevedo said. Sophomore Ahmed Saadi also has had to find a new route to school. He said "there is always traffic on 44th," and that his commute is now "a rerouted drive."
There is a trench pat∫ch that extends the full length of the repair. Since all existing pavement markings are removed as part of an overlay repair, the new pavement markings must be added to the new road. It will be converted from previously a four to a three lane road. It will also include bike lanes, which remains consistent with the city's transportation master plan.
The construction has brought many backups and detours. "There have been some traffic backups along 212th St. SW. Some of this is due to temporary closures of two lanes on 212th, combined with intermittent stops for maneuvering construction equipment," Hall said.
Story continues below advertisement
Other factors on roadways have increased the heavy traffic. An accident occurred on May 8 on the freeway, which resulted in drivers looking for different routes. On the same day the city modified the green light on 212 St. and 52nd Ave. so that westbound traffic will get a longer green light. The construction is expected to end in mid-July, depending on the weather.