All Roads lead to Dome
This year, the Hawks scored a combined 586 points more than their opponents. Unfortunately that wasn't the case on Saturday, Feb. 4, as the team suffered its lone defeat of the season in a 55-54 thriller against the Shorewood Thunderbirds.
After leading by two at the half, the Hawks were outscored 13-10 in the 3rd quarter, which ended up being the definitive blow in this close ballgame.
Trailing 53-51 with just six seconds left, Shorewood threw the ball inbounds to 6'9" post Josh Hawkinson, but as the Hawks' Ryan Shannon went in to foul him to stop the clock, they both fell to the ground,  and Shannon, clearly shaken up on the play, was slowly helped off the court after a couple of minutes face down on the ground. He was forced to sit out the last few seconds of the game.
Hawkinson sealed the game with two free throws from that foul. But the Hawks didn't give up there, with just three seconds left on the clock, trailing 55-51 Blake Fernandez hustled the ball down the court and drained a buzzer beating three pointer from about NBA range, bringing the game within one, as time expired.
Despite the loss, the Hawks had the two leading scorers of the game, with Marquis Armstead 17 points and Ryan Shannon with 16 points. Big man Coby Russell was held to 10 points, partially due to some questionable officiating and getting into foul trouble early in the first half.
[media-credit name="undefined | The Hawkeye" align="alignright" width="422″]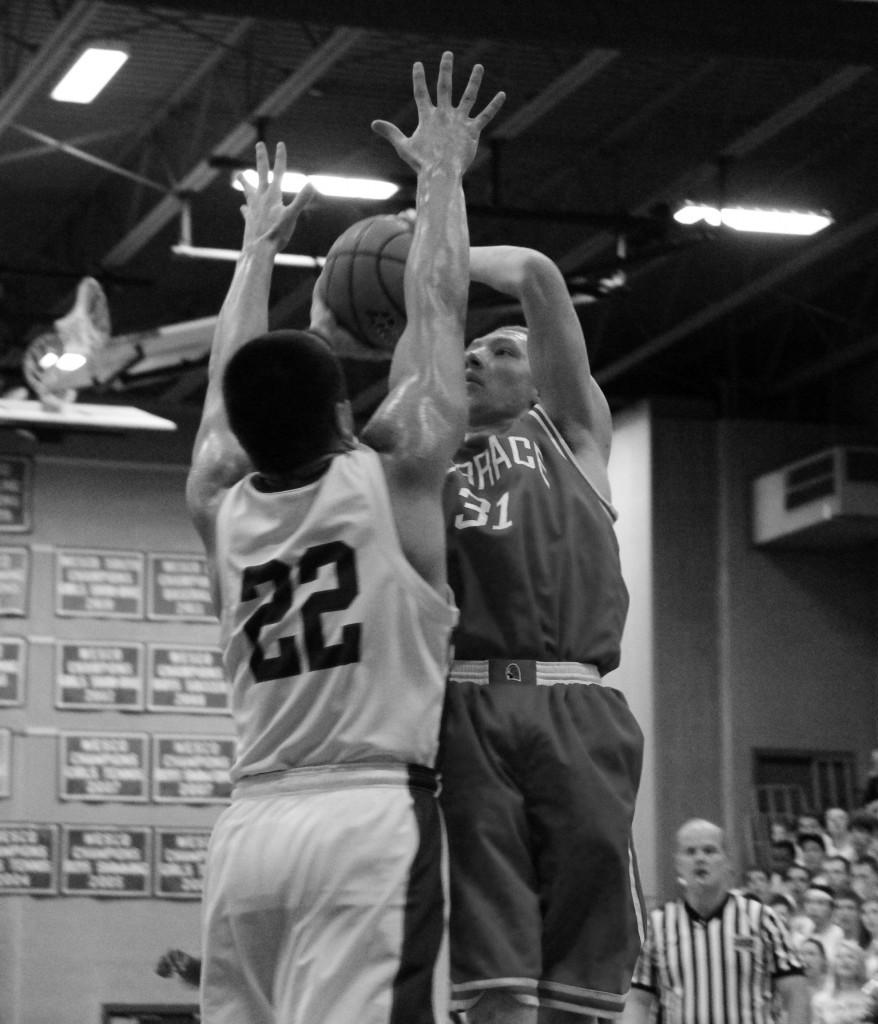 [/media-credit]
Junior wing Marquis Armstead elevates and scores over Shorewood's senior forward Semir Kadiric.
For the most part of the year, the Hawks have done that. They beat teams by an average of 29.3 points per game. Every win was by double digits, except one against Glacier Peak, where they won by 8 points, but the Hawks pulled out 14 wins by at least 20 points. They were also the only team in all of WesCo to allow fewer than 750 points. Also, the Hawks scored 70 or more points a total of nine times, including a 92-51 rout over Monroe and a 77-17 blowout at Marysville-Getchell. Three players (Blake Fernandez, Marquis Armstead, Ryan Shannon) all averaged more than 10 points per game. Greg Bowman and Loren LaCasse, both sophomores, had six double-digit performances throughout the year. What's even more impressive, is that LaCasse, who also plays JV, is limited to a total of four quarters of basketball by WIAA rules. Often times, he didn't come in to games until the third or fourth quarter of varsity games, really limiting his game time.
As a team, the Hawks had a combined 62 double-digit point performances, coming from eight different players, really showing the versatility of this team. At the beginning of the year, people were extremely excited about 6'7" post Ryan Shannon, and expected him to be the leading scorer on this team. Opponents clearly picked up on that, and he was double, or even triple teamed in most games. This gave him the ability to find his teammates wide open for an easy jump shot. The problem for opponents is that if they don't closely guard Shannon, or any of these big men for that matter, they are all capable of putting up 10, 15, 20 points in a single game.
Guards and wings did their jobs on the perimeter exceptionally well this year. On Dec. 29, against Marysville-Pilchuck, Armstead lit up the scoreboard for a whopping 31 points – 29 in the first half. Also a huge threat this year, was speedy 6'1" guard, Blake Fernandez. In an 11-game stretch, from Dec. 15 through Jan. 27, he didn't score fewer than 10 points in a game.
In his first year with the varsity squad, 6'4" post Coby Russell has been a great addition, and absolutely dominated opponents, even sometimes with much taller opponents guarding him. In just his second game of the year, on Dec. 6, he outscored the entire Everett Seagulls team, with 21 points in a 59-20 win by the Hawks.
This team was able to, for the most part, breeze through the WesCo 3A Conference, but it won't be so easy to make it to the state tournament at the Tacoma Dome.
Other 3A teams getting state-wide attention this year include Kamiakin (Kennewick), Rainier Beach (Seattle), and Seattle Prep. These teams have a long history of dominating in the state tournament, and don't expect this year to be much different.
This Hawks team definitely has the talent to win, and after a tough loss against Shorewood, they definitely have the tenacity and hunger.
Through emphatic dunks, to lightning fast breaks, to stunning blocked shots, this team will always go down as one of the best, most talented squads in Mountlake Terrace's rich basketball history.