Hawks host Mavs in a winner-to-state playoff game
By Vince DeMiero
February 17, 2011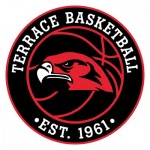 It's pretty simple now – if the Hawks want to return to the state playoffs, they need just one more win. Lose and the season is over. And after a challenging and entertaining season, it'll all come down to a rematch with the Meadowdale Mavericks Saturday night at 6 p.m. in the Terraceum.
The Hawks and Mavs split the season matchups with the home team winning narrowly in each case. Saturday's rubber match should be another close game if the previous two are any indication. The Hawks, however, have two weapons that the Mavs may be unfamiliar with – 6'9″ senior post Ryan Swanstrom and 6'6′ freshman post Greg Bowman. Swanstrom was injured nearly the entire season, but played sparingly in the final game against Meadowdale, and Bowman had seen only limited minutes until Wednesday night against Oak Harbor. Bowman scored just 2, but was a force on the glass and played the majority of the time in the post.
The Hawks continued to struggle from the free-throw line Wednesday night (4-7, 57%), but their tenacious defense kept Oak Harbor off balance the entire game. Michael Washington Jr. led the Wildcats with 15, but was guarded effectively by sophomore wing Marquis Armstead and senior wing Zach Karels. Armstead and Karels returned the favor on the offensive end of the floor leading the Hawks with 12 points each. The 'Cats had just five players who scored and Washington was the only player in double figures.
Although he scored just 4 points, senior wing Mitch Haldane's buckets came on the offensive glass – an area where the Hawks out-hustled the  Wildcats the entire evening. Haldane's put-back in the final moments of the game were the Hawks most important and final points of the evening, effectively putting the game out of reach for Oak Harbor.
Following the Mavs v. Hawks game Saturday, Glacier Peak hosts Mount Vernon for the No. 1 and No. 2 seeds from District One to the 3A state playoffs. Either the Hawks or the Mavs will be the No. 3 seed.
Follow the Hawks on Twitter @MTHSports. If you can't be at the game, HBN is scheduled to provide a live netcast at www.livestream.com/HBNHawkTV
Test Cross Country
Hawks Vs Meadow on Date
| Place | Time | Name | Grade |
| --- | --- | --- | --- |
| 1 | 1:03:60 | Jerry Sample | 12 |
| 3 | 4:09:23 | JOe siay | 11 |
| 4 | 1:42:08 | Sam Loo | 9 |
| | | | |
| | | | |
| | | | |
| | | | |
| | | | |
| | | | |
Box Score
Oak Harbor: Washington Jr. 15, Massey 9, Stout 7, Brooks 2, Bratt 5, Trace Paul, Connor Paul, Tillotson.
Hawks: Karels 12, Armstead 12, Snow 8, Haldane 4, Swanstrom 2, Bowman 2, Johnson, Powell, Fernandez, Lambert.