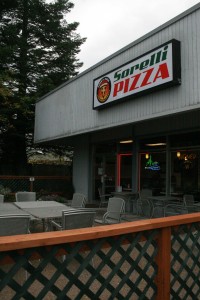 The rush of hot air and comforting smell of warm bread immediately hits you as the door opens. Sorelli Pizza, a Mountlake Terrace establishment located on 44th Avenue just six blocks south of the high school recently reopened its doors. With new owners, menu items, and some updated physical features this small establishment is making a big name for itself.
Devin Klaudt and Kelly Dougan took upon themselves the major responsibilities of running a successful pizza parlor in a small town. Klaudt and Dougan split ownership duties into three categories: food, money, and scheduling. Although Dougan handles the scheduling of working days amongst the Sorelli workers, Devin handles the task of creating food items for the menu; while his wife, Kimberly, controls the finances.
Although the name hasn't changed, both new and old customers will surely notice a profound difference in the overall quality of Sorelli Pizza parlor. With new management comes new panache; and the owners certainly added plenty of that. Some modern changes include: multiple flat screens that draw in sport fans out of the woodwork to a friendly place to discuss the game. A kid's corner has been added for the young ones unable to sit through a meal, plus a clean outdoor area right out front for customers to enjoy their meals during the rare days the sun makes an appearance.
Sorelli Pizza has quickly become the hot spot for many Terrace residents – holding events such as karaoke night, and Sorelli's own fantasy football team.
The Hawkeye staff consensus is simple: "AMAZING!" in an Oprah-like vibrato of course. Many public figures, such as longtime musical guru Frank DeMiero, have given their vote of confidence in the business.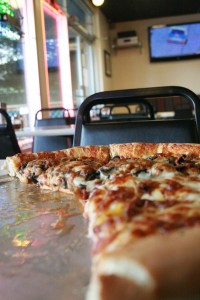 "[Sorelli Pizza] is one of the best pizza places in town, save my home of course!" he said. What you need to know about DeMiero is that he is a very strong blooded Italian. He takes pride in his Italian cuisine and to get his vote of confidence is an extreme honor. DeMiero has held several personal parties there due to the great-tasting food, extremely friendly portions, and the overwhelming friendly service that the establishment provides.
Thanks to a helpful Sorelli employee, Klaudt was able to create the perfect pizza crust. Out of all the staff, only two know the secret ingredient that makes their dough so delectable. Even though Klaudt has no formal culinary training, his recipes could rival the likes of Bobby Flay and Mario Batali, constructing his final product through a trial and error process; ending with finished dough that is made fresh every morning for the customers to enjoy.
Adding a personal touch to the menu, each item featured has a background story. Items such as the Albino, named after the fair skinned blonde haired co-owner, Kelly Dougan, the pizza includes alfredo sauce, chicken, Canadian bacon, and mushrooms.
Vegetables in reds and greens, decorate the faces of browned mozzarella cheese, the building block of their delicious pizzas. A blend of spices, which perfectly compliment each other, are added to the sauce making the rare cheese-less bite enjoyable.
Story continues below advertisement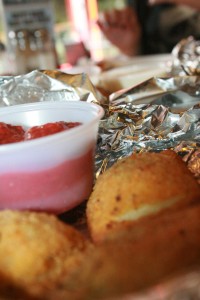 With appetizers like buttery bread-sticks, spicy chicken wings, and Caesar salad among others, Sorelli Pizza has modernized the classics of a pizza parlor and have changed to meet the needs of the customers – a rare thing found in customer service these days. Vegetarians don't miss out when dining at Sorelli Pizza Parlor either. With a variety of vegetables, a delicious meal is surely guaranteed.
Churning sounds can be heard from behind the counter stimulating the excitement of the customer. Homemade milkshakes have become a quick favorite among new and old Sorelli regulars. Coming in a variety of flavors including strawberry, chocolate, caramel, butterscotch, banana, blackberry, vanilla, and peanut butter, these creamy sweets are the perfect additions to a savory meal.
Being located so close to a high school, Sorelli Pizza has taken the presence of students into consideration and has even created a deal just for MTHS students from 11:30 a.m. to 3 p.m. Students with an ASB card can get a slice of pizza or a chicken Caesar salad and a refillable soda for just $4, milk shakes and floats normally $3 each are lowered to just $2.
With serving sizes appropriate for NFL players, the deal on a filling lunch is unbeatable. With Pizza Man removed from the community a locally owned pizza place with good food for inexpensive prices is what the people of Mountlake Terrace need. A new addition to our small community is being welcomed with open arms and a watering mouth.