Living life the Wright way
By Hawkeye Staff
October 26, 2010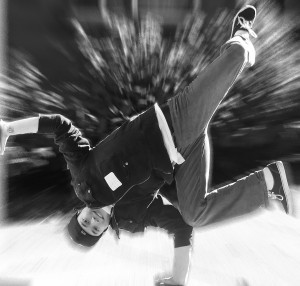 Terrace alumnus Yoshi Wright is dressed in all-dark colors with a fitted cap, jacket, tee, slim jeans, and sneakers. He looks like a poster child for street wear. His demeanor is calm, cool and collected. Wright introduces himself with an infectious smile and his radiating confidence seeps into the interview.
Creator of the dance group Kontagious Movement, Wright remembers himself as genuine wallflower at dances, never one to put himself out there. "I've always really liked dancing but I was always afraid to do it," he says.
That all changed when he and his family took a trip to San Francisco. While waiting for the trolley, Wright noticed a group of b-boys breaking in the streets. He was so captivated by their style that he stayed to watch them finish.
"I came back to school thinking that was the coolest thing I'd ever seen," he says.
Learning how to break dance wouldn't come easy for Wright. With YouTube nonexistent and no mentor to teach him, Wright learned his moves from written tutorials, knowing that sometimes it's up to the individual to reach outside the norm in order to find a place to create something of his own.
Choosing to pursue break dancing instead of jazz band, Wright quit band and focused all of his attention on breaking. Everyday after school he danced in the HUB, but he said with a slight frown, "You weren't allowed to dance down in the HUB, but we did anyways and we'd get kicked out on a daily basis."
Because of this reoccurring dilemma, Wright and other breakers started the very first Hip Hop club in 2003 with Sue VanSenus as the adviser. Now they were able to dance until their hearts were content. VanSenus made sure that the club would be recognized. The winter sports assembly proved to be the perfect opportunity for such recognition. They won the first place trophy and went on to win the second place trophy at districts. Once it was all over, their hunger for more was overwhelming. "We just lived for the next sports assembly or a talent show or something like that."
Breaking proved to be a dangerous gig: Wright dislocated his shoulder while attempting a handspring. His advice: "you should probably go to gymnastics if you're going to learn how to do those." Ending up with a shoulder surgery that cost him 6 months of dancing, he "figured I'd just find a way to get around it and practice the stuff I can do for the time being, so I went over every move on my feet that I could do."
For his senior project, Wright choreographed a dance that he and his friends performed at various schools in the district. He combined the names of two other dance groups he was also involved in, Art of Movement and Kontagious, and Wright's own dance group, Kontagious Movement was born. "What I wanted from this team was really good onstage chemistry, so everyone looks like they're having fun onstage; that's like the whole vibe you get from watching us."
Graduation came and went and still Kontagious Movement was going strong. "We all had the same common goal, to make a name for ourselves." Wright and other former Hawks went on to win the World of Dance Competition, a national competition in Seattle, which showcased everything from popping and locking, to vogue and hip-hop. Flashing a wide smile, Wright pointed up to the top of a movie shelf and directs our attention to first place trophies from Canada, California, and Las Vegas. Among the many accomplishments, he has also opened for T. Pain, Ludacris, and Mike Jones, but the crowning jewel would be the group's appearance on "So You Think You Can Dance?"
Unfortunately, shortly after their recent success, Kontagious Movement decided to disband, ending on a high note. Wright assures that there are no harsh feelings, but that the passion for break is still swelling inside him.
Because Kontagious Movement broke up before one last gig they were signed up for, Wright has "a new team in the making, its called Hip Hop Anonymous, after the movie big daddy." Hip Hop Anonymous will be performing once to chase after the first place trophy during Kollaboration, a dance competition featured in Seattle. For more information, visit www.kollaborationseattle.org.
After the competition, Wright wants to share his passion for dance through teaching. "Its a way for me to dance and make a living at the same time. I'm not as passionate about teaching, but I just like to dance."
Wright wants to continue to teach as much as he can and focus his energy on his students before he moves to Los Angeles to take his career to the next level.
Since high school, not much has changed for Wright. He's still the same relaxed, confident guy, and the only thing you could say has changed is his success. Although the Seattle Dance community isn't very big, Wright says "the thing that's changed is how people look at me after the thing's I've done…they respect me."
Wright's advice for fellow artists who want to pursue their abilities reflects his character: "no matter what, just keep going with it. Its going to sound really cliché when I say this, but if its something you love to do, find a way to do it because you never know when your chance is going to come or what's going to come later."
Loyally, Wright speaks of Terrace in a way that only a former Hawk could.
"I guess just the fact that wherever I've gone in the world, or whatever competition I've done or whoever I've met, no matter where they're from, I always sat that I came from Mountlake terrace high school and that's where I started."
The nourishment that b-boying provides isn't a quick sugary snack. It's a well-balanced meal, with each bite carefully planned out and slowly savored. The flavor is there, but it's meant to sustain and not just to entertain.
"I don't dance because it's the cool thing to do, I dance because its just what I love to do," he says. Proving that once a b-boy always a b-boy and Yoshi isn't about to give it up, even if that means dancing in the streets.