MTHS teams up with Adidas and Cloud 9 Sports
By AnhViet Nguyen
September 8, 2010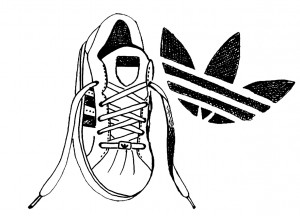 Expect to see more of the Three Stripes around town. MTHS has partnered with Adidas and Cloud 9 Sports to provide a special program for students, athletes and their parents.
This program will be run through the newly formed MTHS Sports Booster Club. The three-year partnership will help families save money when purchasing athletic gear from Adidas.
Roger DeBoer, owner of Cloud 9 Sports and boys' basketball coach at Lynden Christian, initially proposed the idea of a possible Adidas partnership with the MTHS SBC.
In addition, DeBoer is no stranger to MTHS. "We actually played a couple of district playoff games at Terrace. I've also known Coach Sood and Stew for a while," DeBoer said.
MTHS joins a small number of high schools in Washington currently representing Adidas, including Lynden Christian, Stanwood, King's, Auburn Mountainview and Thomas Jefferson.
But why was Terrace selected to represent Adidas?
Perhaps it is because of the recent success of the baseball, basketball and football programs. All three teams reached the postseason last year. DeBoer said, "This is a part of Adidas' grassroots program. They want to see teams and students in their products."
Athletic teams will be looking to save money and are among the beneficiaries of this partnership. When teams order from the catalog, they will receive 40 percent off of apparel and 35 percent off of shoes.
"These are big name shoes at an affordable price," DeBoer said. In addition to the discounted prices, the local Cloud 9 Sports rep will visit the athletic teams prior to the athletic season to collect shoe-sizing information. From there, an order is placed and then the athletes receive the shoes when available.
Coaches and teams will look at Adidas as the first option when purchasing gear. However, teams are not obligated to order apparel and shoes from Adidas.
Although the program is mainly directed toward the athletic teams, individuals in the community looking to sport the latest Adidas gear can do so by browsing the online catalog at http://www.adidas-team.com. Mentioning the MTHS SBC will result in a 30 percent discount off your individual order as well.
DeBoer said that the partnership will be "mutually beneficial" for the school and Adidas.
"They're trying to help schools save some money and recruit high profile schools [to their brand]. I think Mountlake Terrace is one of them."
The MTHS SBC will also benefit from this partnership. Adidas will donate $11,000 over the next three years to the booster club.
According to Melissa Reid, MTHS SBC President, the money will be used for fund raising opportunities. Also, a small income from individual orders will come back to the booster club, which will end up helping the athletes.