Jack Carrick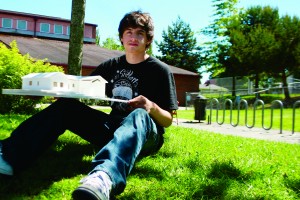 Jack Carrick is known by many to be creative, artistic, and have a critical eye on shapes and buildings. He has loved to draw since he was young, before the age of 13 he had four art pieces in the Edmonds Arts Festival. At the age of 7 he began to draw cityscapes, which began his interest for architecture. As Carrick grew older his architectural hobby grew as he discovered his heroes Frank Lloyd Wright and Frank Geary. Carrick's inspired by Wright's use of structure and concrete along with Geary's funky and unconventional designs.
In Carrick's junior year he took Drafting I and II, which introduced him to the AutoCAD software. This will prove to be extremely beneficial to Carrick, as most architecture firms today use the software to draft and design buildings. During his senior year Carrick started the Architectural Drafting class through intra-district tech prep at Edmonds Woodway, Carrick skipped the two beginning levels and moved ahead to level three and four because of his prior experience in his junior year. earlier this year Carrick won a thousand dollar scholarship for vocational studies of architecture.
For Carrick's senior project he designed a house for the Lynnwood Rotary Club and entered his design in a contest. Carrick's design is currently tied for first; if he were to win his design would be used for the Rotary Club's new building.
After graduation Carrick plans to attend Lake Washington Technical College for a year and a half to earn his associates degree in architecture then he plans to transfer to the University of Washington to earn his masters degree in architecture.