Navarre Kerr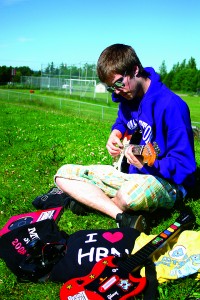 Three words sum up Navarre Kerr: Where to begin? With his plethora of extracurricular activities, it is hard to imagine how he can still find time for all of his schoolwork. Yet amidst his extreme involvement and advanced classes he is 13th in his graduating class with a cumulative GPA of 3.93.
Throughout his high school career, Kerr has excelled in many aspects of his passion for media and communications. Sophomore year, he served on the yearbook staff as well as Hawkeye staff. Continuing on in Hawkeye, he contributed greatly to the paper as well achieved the position of photography manager his senior year. He was later selected as one of the Hawkeye MVPs. To further his media involvement, Kerr was a part of the leadership staff on Hawk TV.
Outside of his digital and media aspects, he served as a class representative his junior year and was elected senior class president.
Along with ASB and media work, Kerr has been a link crew leader for two years as well as a member of National Honor Society since induction second semester of his sophomore year. In December of this year, he was also selected as student-of-the-month.
When he finds free time amongst his endless responsibilities, he enjoys playing guitar. In fact, his passion is so strong for it that he taught guitar to seven students for his senior project. Aside from real guitar he is ranked in the top 500 people in the world at the Guitar Hero video game series and has designed his own video games.
Next year, Kerr will be attending the University of Washington Bothell to get a bachelor's degree in the Interdisciplinary Arts and Sciences: Media and Communications. After UW, he plans to go to Washington State University to master in broadcasting. His dream job is to be a radio/television host or the narrator of commercials. To ease the financial burden of college, he was granted a $4,000 Chancellor's scholarship from UW Bothell as well as the $1,000 McLaughlin Memorial scholarship through the Hawkeye. Look and listen for him in the future, because he is headed non-stop to pursue his dreams.