The Mountlake Terrace Farmers Market
By Hawkeye Staff
May 13, 2010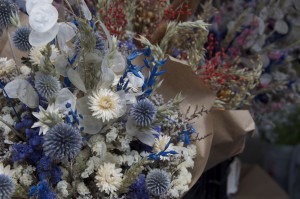 Two years ago, residents of Mountlake Terrace were given a survey on what they would like to see in their community; their No. 1 request was for a local farmers market. After two long and arduous years, their wish was finally granted.
Buzzing with excitement and anticipation, fellow Mountlake Terrace residents awaited the official ribbon cutting ceremony on May 6 that would open the new Mountlake Terrace Farmers Market, located on 232nd and 58th. It will be open every Thursday from 3 to 7 p.m. through the end of September.
Mountlake Terrace's Business Association President and Chair of Farmers Market Steering Committee Don Andrews gave the opening speech in which he thanked the mayor, the city council, the key citizens that were part of bringing the market to fruition, and the business contributors.
After a few more people involved in the project gave a speech, the ribbon cutting commenced. The market was open for good.
Vic Sood, a member of the city's Planning Commission and Vice Chair of the Farmers Market Steering Committee of the Mountlake Terrace Business Association, helped find the site for the farmers market, along with two other members of the Steering Committee. Sood is the father of MTHS teacher and men's basketball coach Nalin Sood.
Grant Davidson, Market Manager, is responsible for getting the vendors together. He has had 17 years of experience as a Market Manager, and he currently works at three other farmers markets – Lake Forest Park, Woodinville, and Crossroads in Bellevue –  as the market manager.
"We make our money here, and we want to give back to the community," Andrews said about the rationale for the market. "We also hope to bring some traffic from outside the city to spend money inside the city."
As of now, there are about 12 vendors, but Andrews estimates that there will be around 25 on average, adding more as time goes on.
The market is going to have "the spirit of just a farmers market," Andrews said; everything sold must be grown in Washington or made by the vendor. He also explained that all the ingredients must come from Washington as well. Two craft booths will be added during July and September. The dates are to be announced.
One of the vendors is Tiny's Organics, a certified organic farm located in Wenatchee. Tiny's has been around for 20 years and is involved in 33 farmers markets throughout the Puget Sound. They make their own jam, dried fruits, and specialize in stone fruits (peaches, nectarines, cherries, etc.). Tiny's Organics is only available through farmers markets, and/or online at www.tinysorganic.com.
Yeng Garden is one of the many flower vendors, and has been involved in farmers markets for 10 years. The enormous array of flowers for sale are grown in fields in Snohomish. Another flower vendor is C.N.L Garden; it also sells fresh produce.
There are also vendors such as Paulie's Plants and Veggies, which sells plants and herbs. The owner, Paula, has been selling at farmers markets for about four years, and is involved in the Edmonds, Mountlake Terrace, and Lake Forest Park farmers markets. Her crops are not mass produced, and no pesticides are used.
"I realized my product is appreciated in city life," Paula said.
Other vendors include Four Seasons Gourmet Food, Happy Cakes, Sweet As Can BEE Honey Farm, Classic Kettle Corn, and Full Circle Farm, among others.
Vendors and market organizers expect the market to be popular, prosperous, and a way for the community to come together.
Student volunteers are needed: contact Vic Sood at [email protected] for more information.