Last weekend, the Hawks track team made the trip to Mt. Tahoma to compete in the 3A Washington State Track Meet.
For the women's team, Terrace sent senior Barbara Biney, freshman Katherine Gustafson, freshman Sophia Nelson, junior McKenna Hunt, sophomore Hailee Malins, and sophomore Chinne Okoronkwo. For the men, senior Jack Pearce, senior Brett Potter, and sophomore Michael Liddell were sent.
The women's team, overall, did very well. The Hawks placed third in the state, behind only Kamiakin (123 points) and Holy Names Academy (102 points). The Hawks themselves scored 51 points, but it was still enough to place third.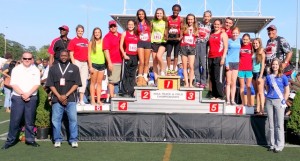 More specifically, Biney placed fifth in the 100 meter with a 12.58, sixth in the 200 meter with a 25.44, and third in the long jump with a 16'10.25. Gustafson placed tenth in the 1600 meter with a 5:11.54 and eighth in the 3200 meter with a 11:25.37. Nelson placed 13th in the 3200 meter with a 11:52.08 time. Hunt placed an impressive second in state in the 100 meter hurdles with a time of 15.19 and finally Okoronkwo placed second in the pole vault with a 12 foot even, first in the long jump with an 18 foot 2.5 inch jump, and first in the triple jump with a state record setting 40 feet 11.25 inch jump.
When asked about breaking the record, Okoronkwo said "It was nice to have the record but I didn't jump my personal best to get it which was what I was really hoping for." Although Okoronkwo didn't hit her personal best, it should be commended that she broke the state record in her event.
The Hawks had two impressive standout freshman runners who managed to make it all the way to state against all the other grades above them despite their young age. Gustafson and Nelson both made it to state as freshman, and did reasonably well. Gustafson was nervous, saying "It was my first state track meet so it was definitely a lot to take in at first. There were a lot of people there. It was an honor to be there and be around all the amazing athletes, and I had a lot of fun with my teammates who came too. I felt really blessed to have qualified as a freshman. It was intimidating, but my friends helped me relax. I hope to go back to compete in more state meets" Despite Gustafson's nerves, she did well placing tenth and eighth in her two events.
As for Nelson, she said that the race was "Definitely a lot more scary than any other meet." As expected, Nelson was also nervous being at state as a freshman. Afterward, she said that she was "A little disappointed. At cross country state I raced very well so I was expecting sort of the same thing. But Saturday just wasn't a good day for me. Looking back, I could have raced better, but I'm not sad or angry about it. Summer training is going to prepare me to do even better next year." The future definitely looks bright for the women's Hawks team going on with these two very talented and very young runners, along with Okoronkwo.
Another impressive women's athlete from this meet was McKenna Hunt. Hunt came into this state meet with it being her third one, since she had qualified the last two years as a freshman and a sophomore. She placed second in her event in the entire state, therefore meaning that there is only one person in the state of Washington better than her at what she does. That is something to be recognized. When asked about her experience at state, Hunt said "It was awesome, I mean I went the past two years for both hurdle events and every year I feel like I get more used to the intensity of it all. Not to say I don't get nervous at all because it was still scary, but the overall experience this year was pretty cool. I got done what nobody thought I could accomplish and proved some people wrong."
For the Men's team, Jack Pearce placed 18th in the 1600 meter with a 4:40.16 time, Brett Potter placed ninth in the discus with a 143-09 distance, and Michael Liddell placed 12th in the long jump with a 20-02.25.
Story continues below advertisement
Pearce, who has been a standout leader on the track team throughout the whole season, said that he was "Very disappointed" with his performance. However, he also said that he was "Proud how everyone else stepped up at the biggest meet of the season." This is just another example of Pearce's leadership on the team. Unfortunately though, Pearce won't be able to share his leadership anymore since he will be graduating from Terrace. When asked about not being on Terrace track anymore, he said "It's surreal that I won't compete for Terrace again, it hasn't hit me yet I think. These past four years have been absolutely incredible not only for their highs but their lows, my time competing at Terrace has made me not only a better runner but a better, tougher person."
[/vc_column_text][/vc_column][/vc_row]