Bouche and Liu serve their story
Photos by TK Johnson
Not many people may seem to know about the Hawks women's tennis team, but they've sent a doubles team to state the past two years.
Junior Nicki Bouche has competed at state twice, and sophomore Tina Liu competed as her doubles partner last year at the state tournament. This year, the dynamic duo is on track to make it to state again.
Bouche boosts Hawks
Nicki Bouche first started playing tennis in the sixth grade.
"[I decided to start playing] because my family plays tennis, so I thought I should," Bouche said.
Her family encouraged her to become more competitive in tennis, and they continue to support her passion for the sport. So far in her high school career, Bouche has gone to state in both her freshman and sophomore years. With the way things are looking now, she is probably returning for a third year as well.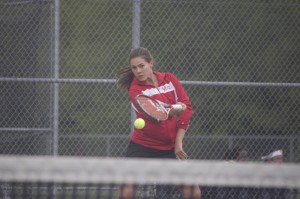 In Bouche's freshman year, she and MTHS graduate Gillian Breden-Armstrong (then a senior) played doubles and earned fourth place in the 3A Tennis State Championship. Last year as a sophomore, she went back to the 3A Tennis State Championship with Liu, who was a freshman at the time.
The team took eighth place.
"It was really cool because it was all the best tennis players from the state. The level of play was way higher than any high school match," Bouche said, regarding her experience at state.
At state, she was able to learn how to compete better and at a higher level.
"It made me a better player," Bouche said.
When Bouche and Liu go to these championships, it helps them to not only become better tennis athletes individually, but they also learn more on how to become leaders and help out the rest of the team.
For example, when they play against each other, it helps Liu, a younger state competitor, get a feel for a higher level of competition.
Along with their successes in tennis, Bouche and Liu serve as leaders of the team. Both players try to help out some of the newer members of the team.
Bouche's motivation is a major contributor to much of her success on the court.
"I'm really competitive, I absolutely hate to lose, and [I'm] pretty compassionate," Bouche said.
Bouche's own competitive nature has even helped Liu get to a higher level of play than before their partnership.
All the hard work Bouche has put in has paid off in high school, and may help her achieve her dream of playing tennis in college.
"I'm looking at schools in California to play college tennis," Bouche said. However, Bouche does not have any specific colleges picked out yet.
Tennis is not one of the more publicized sports, and to some it might look a little boring from the outside, but according to Bouche, "It's actually a super intense sport and you can get really into it."
"It's also a really fun sport for anybody and people should play it more," Bouche added.
Liu steps up, supplements
Liu first started playing tennis when she was just eight years old. "My older brothers both played tennis in high school," Liu said.
Liu, just like Bouche, was encouraged by her family to start playing tennis, but at an even younger age.
In Liu's freshman year, she competed in the 3A Tennis State Championship with Bouche, winning, as previously stated, eighth place. Doing this was very remarkable for a doubles team made up of two underclassmen.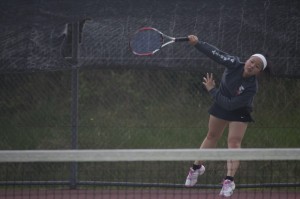 "I feel very accomplished. I just want to keep improving, and competition gives me something to aim for," Liu said.
According to Liu, she is constantly looking to improve and hopes her improvements can translate over to more of the Hawks' success and deeper runs into the 3A Tennis State Championship.
Even though she said it was "nerve racking, because everyone who gets to state is good and there is not going to be an easy match there," this is a challenge that Liu seems extremely prepared for. She is already a state veteran and is on the right track to go back to the 3A state championship.
Bouche and Liu are a force to be reckoned with, especially now that they've had the opportunity to go to state together before and have been able to work on their past mistakes from last year's competition for a year now.
Hopefully, if the duo stays true to form, both Bouche and Liu will make it back to the 3A State Championship and can go even farther than before.