Energy Drinks: Plenty of consequences to this unhealthy fad
By Hawkeye Staff
November 3, 2010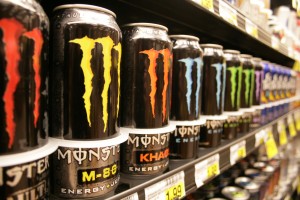 According to Dr. Stephen Chang, a staff physician for righthealth.com, research shows that one third of people ages 12 to 24 consume energy drinks regularly. Energy drinks like Monster, Rockstar, Red Bull, Amp, Full Throttle, and Fixx have created a 5.7 billion dollar industry for companies.
Energy drinks affect people's health in both positive and negative ways. One concern about energy drinks is that the FDA doesn't limit the amount of caffeine in them. Some experts wanted the U.S. FDA to make warning labels on energy drinks mandatory.
There are serious health problems that can result from caffeine overdose when consuming energy drinks.
"Drinking them could be dangerous to the heart because of the amount of caffeine," states Doctor Michael Roizen, more commonly known as Dr. Oz, on his website.
The Diagnostic and Statistical Manual of Mental Disorders says consuming 250 milligrams of caffeine in a short amount of time can cause caffeine intoxication, as stated in the January 12, 2009 issue of Current Events magazine.
"Certainly you can have toxic effects from [energy drinks]," says Jeanna Marraffa, a clinical toxicologist at the Upstate New York Poison Center (as indicated on USA Today).
Monster and Rockstar energy drinks contain 160 milligrams of caffeine in every 16 ounce can. This means drinking two energy drinks consecutively could be extremely harmful.
Additionally, 20 ounces of the energy drink Fixx contains 500 milligrams of caffeine. A significant amount of calls to an Illinois Poison Center were a result of caffeine abuse over a three-year tracking period, reported a team of doctors at the American College of Emergency Physicians annual meeting in New Orleans Caffeine abuse. Symptoms include insomnia, tremors, nausea, vomiting, chest pains, and palpitations and others, says study researcher Danielle McCarthy, MD, a resident at Northwestern University.
High amounts of caffeine and sugar are not the best for the body.
"If you were to drink multiple glasses of this mixture or concoctions, and a few cups of coffee we think there would be a potential for significant danger in the form of a racing heart beat, elevation of blood pressure and even potentially a heart attack. And too much sugar can make your arteries age, sapping your energy in the long run," Doctor Oz says on his website.
Energy drinks aren't healthy for people to consume and can have dangerous side effects. Athletes who drink too many energy drinks could experience dehydration, tremors, heat stroke, and heart attacks, cautioned 12 health experts at the SUNY Youth Sports Institute's first national symposium on energy drinks.
According to abc.com, if a person consumes energy drinks while sweating they can become exceptionally dehydrated quickly. Abc.com also says that consuming large amounts of energy drinks can cause irritability, loss of sleep, and headaches.
Too much caffeine can lead to high blood pressure, high blood sugar, and decreased bone density as described by medicinenet.com. "Caffeine is a drug," reports Dr. Stephen Chang. "Consequently, people may become addicted and experience withdrawal systems if they stop consuming it."
Caffeine does produce dependence, and caffeine withdrawal is a real syndrome," says Roland R. Griffiths, PhD, professor in the departments of psychiatry and neuroscience at Johns Hopkins University School of Medicine in Baltimore.
However, energy drinks do have health benefits as well. A number of studies suggest that caffeine improves short- term memory, decrease fatigue, and improve mental functioning.
According to a 2005 study presented at the Radiological Society of America by medicinenet.com, energy drinks can speed up reaction times and may help prevent type 2 diabetes, Parkinson's disease, and liver disease.