MTHS hosts regional kickoff of international robotics competition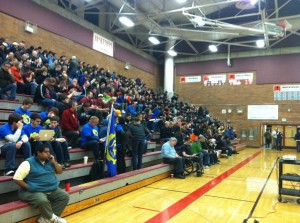 Robotics teams all around the world gathered to watch the FIRST Robotics Competition (FRC) kickoff through an online broadcast yesterday morning. Local teams from various schools gathered at Mountlake Terrace High School to watch the live stream from the Terraceum.
The annual FRC kickoff, broadcasted by FIRST (For Inspiration and Recognition of Science and Technology) and NASA Robotics, is the international introduction to the robotics building season. This year, teams from all over the United States, Mexico, Brazil, Australia, Canada and Israel tuned in to watch the online broadcast.
The MTHS kickoff event was one of four in Washington and served teams from many different schools in the area. According to robotics student president Daylan Kelting, this is at least the third year that MTHS has hosted the event.
During the broadcast, FIRST representatives talked about this year's mission: what the robot has to do, what materials can be used, and what changes have been made to the rules. After watching, all teams were mixed and separated into 26 MTHS classrooms to have brainstorming sessions and talk about game strategy.
Robotics teams also received their kits to build the robots, called kit bots. Starting yesterday, teams have six weeks to build and program their robots. At the end of the six weeks, all robots will be packaged and stored until competitions begin in March.
"I believe we are still using the honors system on not building on our bots after the six weeks are up," Kelting said. "We used to have people take them away for the weeks leading up to competitions."
As far as materials go, kits come with different components depending on how experienced the team is.
"[We got] structural parts to build the frame that everything sits on, the motors and wheels for the drive train, and the electrical components to finish it. The only thing it doesn't come with is the brains of the robot, which you have to order separately," Kelting said.
MTHS robotics has another upcoming event next Sunday, Jan. 12. Four teams from MTHS will compete in district competitions for the FIRST Tech Challenge (FTC) at Jackson High School. If the teams are successful at districts, they can move onto the state FTC competition.