December 2013 Students of the Month
By Erick Yanzon
December 24, 2013
The Edmonds School District selects two students each month to each of the high schools to recognize their accomplishments and achievements. Go to the ESD website for the complete list and information for the December 2013 students of the month.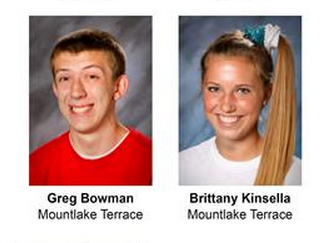 Student Name: Brittany Kinsella
Mother's Name: Shannon Kinsella
Father's Name: John Kinsella
GPA: 3.67
Clubs & Activities: Project Unify; FCCLA ; Cheer ; Mix It Up; Special Olympics
ASB: ASB for three years
Athletics: I've been cheer captain; tennis; gymnastics for 15 years; bowling; soccer, and basketball with Unified Teams for Special Olympics.
Honors: Cheering in the 2013 Macy's Thanksgiving Day Parade as part of a national cheer group
Awards: Most inspirational gymnast; Most spirited for tennis
Community Service: More than 1,000 hours volunteered with Special Olympics including as a member of the State Youth Activation Committee for Special Olympics; I gave out hand turkeys and candy canes at retirement homes and participated in many fundraisers. Those included breast cancer drives such as Relay for Life, and dressing as a polar bear for the Special Olympics Polar Plunge
Culminating Project: College application project
Future Educational Goals: Four-year college degree in business and marketing
Future Career Goals: Marketing and business management for Special Olympics
Student Name: Greg Bowman
Mother's Name: Rebecca Bowman
Father's Name: James Bowman
GPA: 3.91
Clubs & Activities: National Honor Society, Black Student Union, Key Club, French Club
Athletics: basketball, cross country, baseball, golf, track and field
Honors: 2012-2013 First Team Wesco 3A South for Basketball; 2010-2011 most improved award for Basketball; 2012 Cross Country Coaches Award
Awards: 2012 Junior Homecoming Prince; 2013 Senior Homecoming First Prince; voted most kind for senior class, 2013-2014.
Community Service: Volunteer at Terrace Park Elementary School helping kids with their homework; clean up my church.
Culminating Project: Completion of a college application portfolio.
Future Educational Goals: Attend the University of Washington, majoring in history, engineering or biology.
Future Career Goals: Marine biologist, engineer, history teacher.
Anything else we should know? I am proud to be a Hawk!