Inspirational play "The Miracle Worker" lives up to expectations
[vc_row][vc_column width="1/1″][vc_column_text]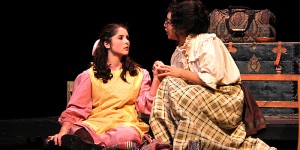 The first show of the year, "The Miracle Worker" gathered many students and families to the MTHS theater every evening at 7pm, Nov. 21, 22, and 23, to enjoy the story of Helen Keller.
The performance began with Captain Keller, played by senior Calvin Martin, and his wife Kate played by sophomore Amanda Petrowski discovering their daughter, Helen, played by junior Emily Davidson, is deaf blind from an illness. Much to the disappointment of Captain's son, Jimmy, the Keller family decides to write to a governess to help tutor Helen instead of sending her to a psych ward.
Kate then goes to the train station to pick up Annie Sullivan, Helen's new teacher, played by junior Danielle Hirano. The chemistry between the actresses led to an excellent performance between Helen and Annie.
Helen was not thrilled to be interacting with Annie because she was accustomed to having everything taken care of and she didn't need to behave with proper decorum. A favorite from the cast was the fight scene between Helen and Annie, when Annie was trying to force Helen to eat on her own without the help or food of others. There was a lot of food and utensils being thrown which made it a crowd pleasing scene.
Captain Keller was very disturbed at the fact that his daughter was often throwing fits and tantrums because Annie refused to give in to Helen's consistent outbursts. Captain Keller then confronted Annie saying that if she doesn't stop the tantrums then he would relieve her from that position.  She then counter argued saying she wouldn't stop because that is the way she learns but if given a proper location away from family, then the progress would improve drastically.
Kate was afraid to send Helen away but agreed to have them stay in the back house Captain Keller gave Annie two weeks to produce a miracle.
After the fourteen days were up, Helen had learned much but the back and forth communication realization hadn't taken place yet. So, Helen and Annie went back to the family home and Helen had another tantrum because she knew her family was there and would give in.
Annie took Helen outside to the well to try and get her away from the Keller family and finally the connection was made. Annie ran water over Helen's hand and finger-spelled the words against Helen's palm and it led to Helen remembering back when she was only sixth months old how to say the word "water." After that, Helen was desperate to fingerspell everything and her parents watched in astonishment as Helen finally broke through and revealed her ability to do things normal girls can with proper manners.
[/vc_column_text][/vc_column][/vc_row]