Student robbed near campus, administration says
Administration notified students and families about an alleged robbery near campus earlier this morning.
In a letter sent home by principal Greg Schwab to MTHS students and families, Schwab said a student reported being robbed at the "Naturescape" area of the campus.
Schwab wrote that the suspect did not have a weapon and the student was unharmed. He also said that the suspect was not a MTHS student.
According to the letter, the suspect is described as, "A male with a stocky build wearing a black hooded sweatshirt and jeans."
In response to the incident, Schwab said administration will take additional measures to insure campus safety.
Schwab wrote, "We take the safety of our students very seriously. We will be adding additional staff supervision to the Naturescape area of campus both before school and after school for the foreseeable future as a way to ensure our students' safety."
Anyone with information is encourage to call MTHS at 425-431-7600 or call 911.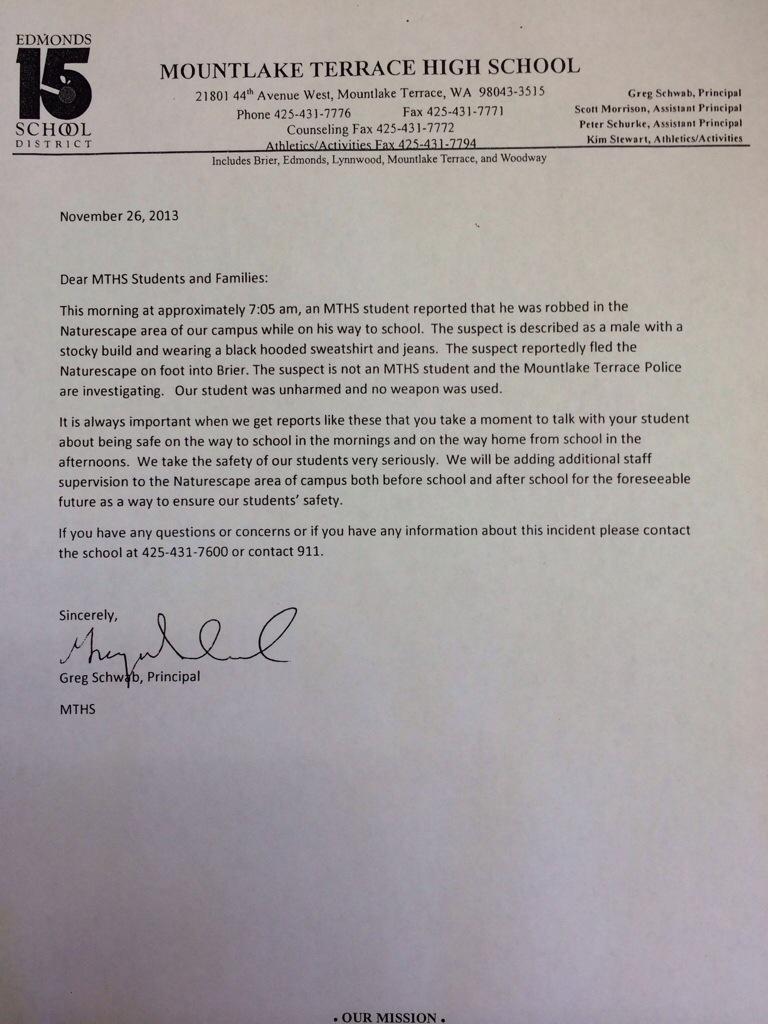 About the Writer
Nick Fiorillo, Editor-in-Chief
Nick Fiorillo is the Editor-in-Chief of the Hawkeye and thehawkeye.org. This is Nick's second year of serving as editor. Last year, he led the Hawkeye in one of the organization's most dramatic transformations in decades, replacing the broadsheet newspaper with a feature based newsmagazine and an emphasis on online content.
Prior to serving as editor-in-chief, Nick was the local news editor during his sophomore year and was a staff reporter during his freshman year.
Nick was named as the 2014 Free Spirit Scholar from Washington state, and traveled to Washington, D.C. as the Washington state delegate to the 2014 Al Neuharth Free Spirit and Journalism Conference. He has received several state and national awards for journalism, including several JEA National Write-off Competition Awards. He was recently awarded the rating of "Superior" for Editorial Writing at the Spring 2014 JEA/NSPA High School Journalism Conference in San Diego, Calif.
His interests include journalism, politics, public policy, law and education. He plans on attending a four-year university and majoring in political science and social policy.
You can view his pressfolio here.
Twitter: @nick_fiorillo
LinkedIn: Nick Fiorillo