The Miracle Worker: first school play of the year
By Shannon Beaumont
September 3, 2013
To kick off the new school year, History teacher and Drama director Jeannie Brzovic is holding auditions in the theater Sep. 11 at 2pm for the tear-jerking Historical play "The Miracle Worker."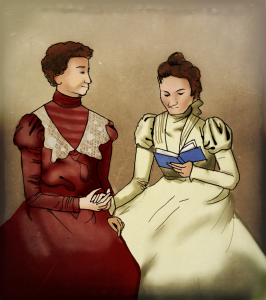 The play takes place at the turn of the century, a story following a mostly blind woman named Annie Sullivan who grew up in an orphanage with her brother who died, so she was hired to work at the Keller Plantation to teach the daughter Helen, a blind and mute girl that had everything handed to her, to communicate again.
"Through a long process [Sullivan]'s eventually able to break through, but both Annie Sullivan and Helen Keller are very strong willed, and so it's quite a struggle to get to the point where they can work together," Brzovic said.
This is the second time Mountlake Terrace High School will be putting on this production, and Brzovic expects the performance to be nothing short of amazing.
In order for the play to be the best it can be, Brzovic will hold the auditions, giving different groups of students different parts of the script to act out on the stage that she must be able to hear from where's she's sitting at the back of the auditorium.
"I look for people that I can hear from the stage to the audience, that's important. And if they have some sense of the characters, so if they take some time to watch like on YouTube one of the old movies that they did, same story, and kind of see what those characters are like and then try to give me some character. I don't want to see high school students on stage because these weren't high school students. So I want to see them give me a sense that they can transform themselves into these characters," said Brzovic.
Immediately following the twelve roles being filled, Brzovic will hand out the scripts and give the actors a chance to memorize their lines before they start rehearsal.
The first scenes to rehearse for the play are the two fighting scenes, "because they have to be rehearsed so that they look completely spontaneous but are very safe at the same time; but they look like they're dangerous, so that's really a challenge," said Brzovic.
"I think that ['The Miracle Worker'] has a really good message. I mean I think that perseverance, that don't-let-the-obstacles-stop-you-from-becoming-who-you-can-be are really good messages," Brzovic said. "I think it's a nice way for the actors to get to really explore characterization and character development and then there's a couple fight scenes that are challenging in the play, so it's a really meaty show for actors to get to work on."
The show is expected to be difficult to put together with much practice to make the production as amazing as possible, and Brzovic will need students that can dedicate their time and lives to recreating a person of the past.
"You've got a mom who loves her daughter dearly but doesn't know how to deal with her, and a man you've got this really forceful, domineering man who likes to be in control of everything, who has to give up control. There's just a lot of dynamic to all the different characters and so that's really fun to work with and help the students to really reach in and find these different dynamics and create these multi-dimensional characters," said Brzovic.