Sex: is everyone really doing it?
Some high school students have sex and some don't. We are taught from a very young age how sex works, how fast conception can take place and all the risks that go along with it. Something that hasn't been taught is when the right time to have sex is.
It's often preached to wait until marriage, but how can anyone really know when the right time is?
The media often conveys teens having sex whether it's in movies like "Project X" or the popular MTV show "Awkward." Many teenagers and students here look up to celebrities as role models, but if they're all having sex, does that mean you should be?
With sex being embedded into our everyday culture, students need to make their decision of when to have sex based on what they have been taught about the risks and their personal beliefs and values.
In a recent survey given by the Hawkeye, 56 students  of all grades responded voluntarily and anonymously to several questions all related to the topic of sex. The survey showed some very surprising results.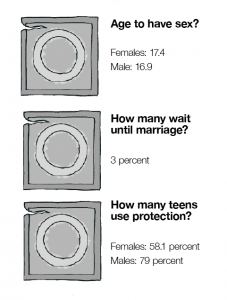 This day in age, many people consider it a little old fashioned to wait until marriage before having sex, however exactly 50 percent of students said they believe in abstinence.
Additionally, 32 percent of students say it's not okay to have sex in high school, and 68 percent said students should wait until after high school's over.
Coming into high school it may seem like "everyone's doing it," but there's no need for that to make you feel pressured into having sex before you are ready. Our survey showed that 59 percent of students are virgins.
These results are fairly similar to a research project conducted for Kimberly Nelson's AP psychology class in 2010. However, the results from just three years indicated that the percentage of virgins at our school was just 40 percent.
Although, the Hawkeye survey found 41 percent of students have had sex, just 21 percent of students said they participate in sexual activities on a regular basis.
Nelson's 2010 survey also found that the average age to lose virginity is 15.5 years old.
When asked, "What is the appropriate age to have sex?" the answers varied from 14 to waiting until marriage, according to the Hawkeye's recent survey.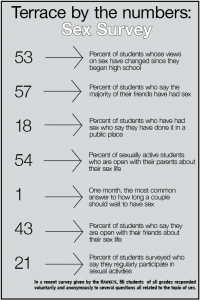 If choosing to participate in sexual activities, it's important to protect yourself and your partner from contracting a sexually transmitted disease (STD) or becoming pregnant.
However, a shocking 29 percent of students responded that they do not use protection when having sex. This may have something to do with the 27 percent of students who said they know someone who has had an STD.
Asking someone if they have had sex or not may seem simple enough, but the Hawkeye also found that students have different opinions on what sex actually is.
A considerable 35 percent of students consider oral sex a way to lose your virginity, while another 25 percent say hand sex, "hand jobs" or "fingering," is another way. Nearly half said anal sex is considered sex, while many people said they thought this is a way to avoid losing their virginity.
Sex is a very sensitive topic, personal beliefs and values may strongly differ but it's important to remember that not everyone in high school is having sex.
It is up  to every individual to make the decision of when to have sex  based on their own beliefs.
There is no right or wrong decision, no one should ever feel pressured into doing something they may not want to or engage in sexual activities with out being mentally and physically prepared.