Upcoming musical showcase guaranteed to be a showstopper
By Alyssa Vallester
April 20, 2013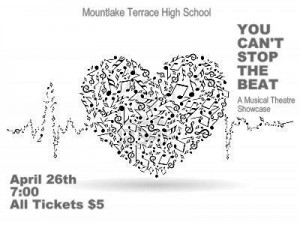 The theater is set to light up with a night full of acting, singing and dancing at 7 p.m. Friday, April 26.
Expect to witness a selection of musical pieces from different shows with most company numbers choreographed by Darlene Culp, a former dance teacher at MTHS, along with some advanced drama students and a piece reproduced by drama instructor Jeannie Brzovic.
A few musical numbers listed include: "Steam Heat," from "The Pajama Game;" "Blow, Gabriel, Blow," from "Anything Goes;" "Seize The Day" from "Newsies;" and a few songs from movie series, such as: "We're All In This Together" from "High School Musical;" and "You Can't Stop The Beat" and "Welcome to the '60s" from "Hairspray."
Brzovic directs the showcase and rehearsals usually last from 2:45 p.m until 4 p.m. on Mondays and Wednesdays, and begin with a typical routine of warm-ups. There were rehearsals during spring break, added rehearsals this week, and a full week of practice called "Hell Week" leading to the Friday performance next week.
"I'm pretty impressed with the kids because we'll work on a choreography piece, then they meet after school and at lunch to work on it and perfect it, so the next time we come to rehearsal, we're able to move forward, which is just so awesome," Brzovic said.
Solo and ensemble auditions were held a few weeks prior to rehearsals.
Solo audition consists of auditionees performing a prepared piece from the Broadway repertoire.
"The kids who have solo pieces and duets have to actually audition prepared pieces, so they're already ahead of the game because they've already prepared it for the auditions. Everything is going smoothly. It's going to be a great show. I'm excited," Brzovic added.
Ensemble audition consists of learning the choreography taught by Culp and performing in groups to be assessed by Culp and Brzovic.
"The ensemble auditions were coming in and doing group numbers that we were taught, we clump together in smaller groups and perform them for Culp and she kind of analyzed our dancing and assessed where we were at," said sophomore Midori Brown.
"There's a whole bunch of different aspects to it, there's: partner dancing, solo dancing, group dancing," sophomore Cassie Stires said.
The cast consists of students from Drama class who have been a part of various plays and musicals at the school, as well as students who have never taken drama.
"For those students who do not have experience already, we're doing some big company numbers so that kids who are interested have an opportunity to participate something," Brzovic said.
"I really like doing 'You Can't Stop the Beat' from 'Hairspray,'" sophomore Emily Davidson said.
Several alumni are coming back for the showcase, including: Karin Redden, Ryan Woodyard, and Kaitlin Martin.
For an unexpected surprise, one of the actors will be seen cross-dressing to play the part of Edna Turnblad from "Hairspray," mother of Tracy Turnblad.