The Mountlake Terrace pot problem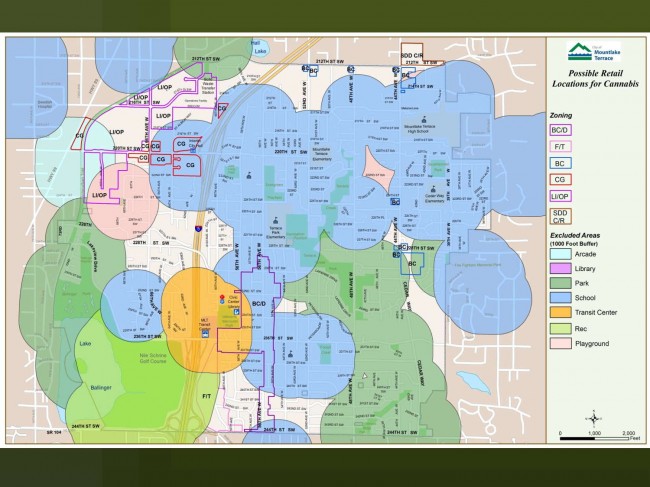 With the passing of Initiative 502, Mountlake Terrace and cities all across Washington could expect a brand new kind of store to open up: a store that sells marijuana.
Tasked with creating the guidelines for how marijuana will be produced, processed and sold, the Washington State Liquor Control Board (WSLCB) is in the beginning phases of drafting the policies for the implementation of I-502.
The WSLCB has outlined a schedule which some are describing as optimistic. This "tentative" schedule says that  Dec. 1 of this year "retailer licenses become effective."
Community and Economic Development Director for the City of Mountlake Terrace Shane Hope said, "I think it will take more time."
Hope said she thinks it will end up being "midway of 2014," before marijuana retail stores are up and running.
Under the I-502, retail locations for marijuana sale cannot be located within 1000 feet of any school, park, transit center, playground, recreational center or arcade. This guideline puts extreme limitations on where marijuana can be sold in Mountlake Terrace.
After city officials drafted a map of possible retail marijuana locations, taking into account the 1000 feet separation requirement and the city zoning code, Hope found that,  "there's only a few places where it could be allowed."
Hope noted three main possible areas.
The map showed, "a very small area off of 44th [Ave. W], the light industrial office park area in the far northwestern portion of the city, and then a little bit in the south portion of the city."
"Of course, we don't know whether there may be some other regulations that get adopted that limit it even further," Hope said.
Hope stressed that the city can't begin to create their own guidelines until they know what the WSLCB will require, which is only in the drafting process.
The law allows persons who are the age of 21 or older to possess one ounce of marijuana, 16 ounces of marijuana in solid form or 72 ounces in liquid form.
Also, the law makes it clear that marijuana or marijuana-infused products cannot be consumed "in view of the general public," according to the WSLCB.
Mountlake Terrace Police Dept. (MTPD) Commander Doug Hansen said, "Under I-502 it is a class 3 civil infraction to open a package containing marijuana, useable marijuana, or a marijuana-infused product, or consume marijuana, useable marijuana, or a marijuana-infused product, in view of the general public."
Like the way MTPD handles drinking alcohol in public, Hansen said, "An infraction will be issued and the offender may be required to hand over the marijuana for destruction."
The WSLCB estimates that marijuana would be sold for retail purposes at an average of $12 per gram. However, high tax rates will raise prices significantly.
Marijuana sale could generate big bucks for the state,.
With a 25 percent tax on each level of marijuana (from producer to processer, processer to a retailer and retailer to a customer), the state estimates marijuana sale could generate as much as $2 billion in the first five years of sale, according to the WSLCB.
Currently, all of this will go directly to the state. The city is not expected to receive any funds from I-502 taxes.
Hope said, "We don't know if it's even possible for the city to require some percentage of sales."
With so much unknown and so much to still be decided, Hope said that the city cannot quite begin to draft its policies and codes regarding marijuana sale.
However, public opinion will be requested by the city.
"We do want to get input on it once we get to look at regulations when we know a little bit more about what the state is proposing," Hope said."Once we're there we really want public input," she said.
About the Writer
Nick Fiorillo, Editor-in-Chief
Nick Fiorillo is the Editor-in-Chief of the Hawkeye and thehawkeye.org. This is Nick's second year of serving as editor. Last year, he led the Hawkeye in one of the organization's most dramatic transformations in decades, replacing the broadsheet newspaper with a feature based newsmagazine and an emphasis on online content.
Prior to serving as editor-in-chief, Nick was the local news editor during his sophomore year and was a staff reporter during his freshman year.
Nick was named as the 2014 Free Spirit Scholar from Washington state, and traveled to Washington, D.C. as the Washington state delegate to the 2014 Al Neuharth Free Spirit and Journalism Conference. He has received several state and national awards for journalism, including several JEA National Write-off Competition Awards. He was recently awarded the rating of "Superior" for Editorial Writing at the Spring 2014 JEA/NSPA High School Journalism Conference in San Diego, Calif.
His interests include journalism, politics, public policy, law and education. He plans on attending a four-year university and majoring in political science and social policy.
You can view his pressfolio here.
Twitter: @nick_fiorillo
LinkedIn: Nick Fiorillo