MTHS students place at WTSA state conference
The MTHS Technology Student Association, or TSA attended the Washington state conference on March 28 to 30. 11 freshmen represented Terrace with adviser Mark Burbank.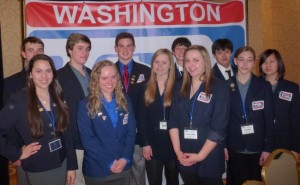 Freshman Haeley Johnston was presented with the Silver Achievement Award at the conference for excellence in the areas of leadership, technology, school/community service and career planning.
COMPETITION RESULTS:
Career Preparation:
Haeley Johnston – 1st place
AsiaLee Donnelly -2nd place
Computer Numerical Control Production:
Haeley Johnston and Joey Owens – 3rd place
Essays on Technology:
Paxtyn Merten – 1st place
Dragster Design:
Jonathan Thiem – 1st place
Structural Engineering:
Jonathan Thiem and Connor Ebright – 1st place
Technical Drawing:
Emmarie Moore – 2nd place
Jonathan Thiem
 – 3rd place
Technology Problem Solving:
AsiaLee Donnelly – 1st place