Terrace to We Day Seattle
By Erick Yanzon
March 24, 2013
15,000 young people around the state are attending the very first We Day in US on March 27, in the Key Arena at Seattle Center.
Fueled by the desire for change, and the hope that the world can be a better place, We Day is the call that brings a generation together. We Day is an initiative of Free The Children, an international charity and educational partner that works with schools to implement the We Act program. We Act  is a comprehensive service learning program that supports schools and youth groups in taking tangible action to make a difference in the world.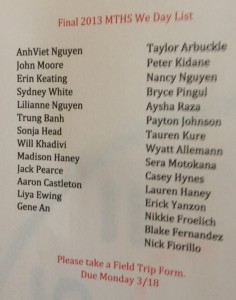 "You can't buy a ticket to We Day – you earn it through service."
Mountlake Terrace High School has 28 students representing to attend this life-changing event, together with principal Greg Schwab and ASB director Kim Stewart.
The event will be joined by inspiring group of world-renowned social activists, Academy and Grammy Award winners and sports icons as performers and speakers.
The star-studded line-up includes award winning actress and musician Jennifer Hudson, NBA legend Magic Johnson, Seattle Seahawks Head Coach Pete Carroll, and many more!