February 2013 students of the month
By Erick Yanzon
February 27, 2013
The Edmonds School District selects two students each month to each of the high schools to recognize their accomplishments and achievements. Go to the ESD website for the complete list and information for the February 2013 students of the month.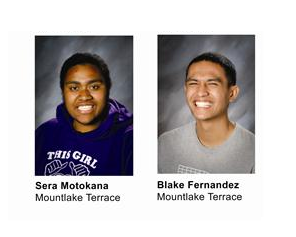 Student Name: Sera Motokana
Mother's Name: Sisilia Motokana
Father's Name: Marika Motokana
GPA: 3.6
Clubs & Activities: I am involved with: FCCLA (Family, Career and Community Leaders of America), TATU (Teens Against Tobacco Use), Mix It Up, Eco Club, Honor Society, Tutoring after school.
Honors: I am currently in Honor Society, and have been in it for a year now.
Culminating Project: For my Culminating Project I am shadowing a Nursing Assistant. I am going to volunteer at an Adult Family home that my mentor owns and works at. Since I was younger I've always wanted to become a Nurse, helping and caring for people was something that I knew I liked and was good at. My junior year I took a Health Professions class where I got to do hands on training and caring for patients at a local Nursing Home. This made me realize that I really did want to do this after high school. From that class I took the Certified Nursing Assistant test, and passed! Passing that test and knowing that I am a Certified Nursing Assistant made me proud because I am one step closer to my main goal of being a Registered Nurse. This project will help me further my understanding and my skills in the health professions.
Current Employment: I am currently involved in after school activities and can't find the time to get a job.
Future Educational Goals: I plan on going to Edmonds Community College for 2 years to get my medical degree then I plan on finishing it at a University.
Community Service: I have done community service projects in the clubs that I belong too. For FCCLA, we do this thing called "Tubie Friends" where we sew in feeding tubes in Build a Bears to help little kids learn how to take care of their own feeding tubes. It helps them realize that it's ok to have a feeding tube. I was involved in cutting open the bears and stuffing the bears, that was definitely one of my favorite projects. I have also been involved in making peanut butter and jelly sandwiches for the homeless, we made over 100 sandwiches! Just a few months back I was involved in collecting toiletries for our toiletry drive. A few other students and I stood in front of Safeway after school collecting and buying toiletries, we donated all the toiletries to a local woman's shelter in the community. Around October our club was involved in carving & delivering pumpkins to a local Nursing Home. For TATU, other students and I go to elementary schools in our district and talk about tobacco use and how to not even begin that habit. I have given presentations on how to say No and how to talk to other people that do have that habit. I am currently tutoring kids after school in the library for Honor Society & helped some freshmen in my P.A.S.S class with their work. I plan to go to Food Life Line in a couple of weeks to package some food for the food bank with other Honor Society students. Through the community service projects I've done and am currently involved in, I hope to impact someone's life.
Future Career Goals: I want to become a Registered Nurse. I plan on going to school to get my medical degree and work at Nursing Homes and hospitals to further my education and training.
Student Name: Blake Fernandez
Mother's Name: Amy Fernandez
Father's Name:  Michael Fernandez
GPA:  3.91
Clubs & Activities: Link crew.
Athletics: Basketball, track.
Honors: 2nd team All-Wesco for basketball.
Awards:  Captains award for basketball.
Community Service: Tutoring at Cedar Way Elementary.
Culminating Project: Coaching 6th grade Hawks feeder basketball team.
Future Educational Goals: Play basketball in college or go to UW for academics.
Future Career Goals: Pharmacist or doctor.