Moving on to the final round of Terrace Idol
By Alyssa Vallester
January 26, 2013
The second round of Terrace Idol was held last Thursday, Jan. 24.
The three judges were: Mackenzie Thoms, who was in season 11 of American Idol; Michael "Wanz" Wansley, who was in Macklemore's Thrift Shop; and Frank Blosser, who was also a judge during the first round.
"I thought overall, mostly everybody did a good job. I think the top five that we chose were the right top five. I thought that they displayed their own unique talents in their performances and their song choices," Thoms said. "It's nice to see people explore their talents and push themselves, I wish I had done that when I was in high school. I really enjoyed it."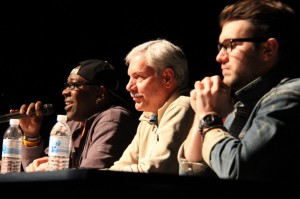 Chosen from the last round, these ten contestants competed for the five spots to the last round.
Alana Erkan started the night off and looked like Ariel with her red hair and green ensemble. She sang "Part of Your World" by Jodi Benson, voice from The Little Mermaid.
The only contender from Shorecrest High School, Franchesca Sandico, sang "Somewhere Over the Rainbow" by Judy Garland, featured from The Wizard of Oz, while her brother played the ukulele.
Lucas Pope, who had a lot of fans, played the piano while singing "I Will Follow You into the Dark" by Ben Gibbard, from Death Cab for Cutie.
Abby Martinez sang "Hurt" by Christina Aguilera, who followed the judges' advice from the last round to walk around while stopping to hold the notes.
Harrison Mains sang "St. Robinson In His Cadillac Dream" by Counting Crows while playing his guitar. He was said to have brought the best energy and told the story of the song.
Elbethel Ebebe sang "No One" by Alicia Keys. She got the crowd involved and had a powerful tone.
Auryana Ashoori sang "Toxic" by Britney Spears while playing her ukulele. The judges commented that she brought 'swag' to the song.
Senaiet Zerom sang "I'll Be There" by Tiffany Evans. The judges described her performance with simplicity, and told her that she's got a career ahead of her.
Caitlin Yanos sang "Breakeven" by The Script. The judges thought that she seemed to draw from experience by letting it out during her song.
Katy Bodnar was the finale with her song "Hallelujah" by Leonard Cohen while playing her guitar. Described as excellent, she owned the stage with her singing and body language.
"I thought they were awesome, I love how the people played their own accompaniment; I think that it's so cool when they're playing the piano, the guitar, or the ukulele," MTHS Student Advocate Ashley Johnson said.
I think my favorite was the last one, Katy Bodnar, I just love how clear her voice was and the way she sounded was so good, she played the guitar so well and there's just something about the sound of her voice that I feel I could really get into, but I love all of them," Johnson added.
Out of the ten contestants, only five would move on to the final round: senior Lucas Pope, junior Senaiet Zerom, and junior Katy Bodnar for MTHS; and junior Abby Martinez and freshman Auryana Ashoori for LHS.
"I liked Kaitlyn (Katy), the one who played the guitar. She really had control with her voice. The quiet and loudness brings emotion. I think (Terrace Idol) is a great idea, it's better than Glee," Wanz said.
The last round of Terrace Idol is on Jan. 30. Same time, same place; MTHS theater at 7 p.m.
Related Stories: Terrace Idol's first round of success.