Skyward experiences technical issues
By Erick Yanzon
December 11, 2012
Skyward is a student information system for students, parents, staff, and administration that is used by the Edmonds School District and most of the districts in the state of Washington.
Last Saturday, Dec. 8, there was a planned outage for a major software update for developments and improvements.
There were problems with the secondary gradebook shortly after the weekend update. No data was disappeared, but the display of it seems to be broken.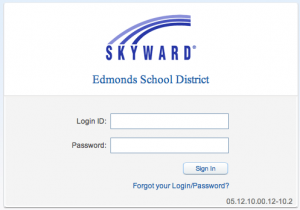 The district decided to turn it off for family access on Monday because it was too complicated to explain to every parent that logs on, and sees that the gradebook is having issues.
The district technology department announced on Sunday that a critical ticket(request for a fix) was placed to Skyward about missing grades and it affects the teacher side, the parent and student side, and the office side.
The district shut off the system on Monday night to run all the updates for the important fixes on secondary gradebook.
Email was sent to staff last night, Monday, Dec. 10, saying, "Teachers, please don't modify grades until further notice because there's still some issues we're not sure about."
Today at 9:30 a.m., another email was sent that said, "Problems with grades have been corrected. Parent and student access will be turned back on again Wednesday, Dec. 12."
School registrar Mary Kikikis said, "We all need to report any irregularity that we still find."
Family access is still currently turned off, and teachers were now told to go ahead and start putting in grades again today, Tuesday, Dec. 11. Only the gradebook tab of skyward is disabled. When clicking on the tab, it says, "Gradebook is currently unavailable and undergoing maintenance.  Gradebook will be available at 8 a.m. on December 12th."
It is expected that the system will work tomorrow, but the district may also run some more tests tonight to make sure it works right.