Jolly Old St. Nick came to town early
By Erick Yanzon
December 10, 2012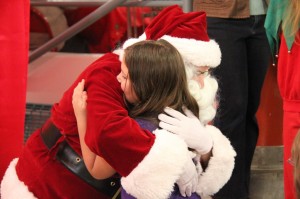 The MTHS Music Boosters hosted the annual Santa Breakfast Dec. 8 in the HUB from 8 a.m. to noon.
Breakfast with Santa was a performance filled with holiday music and good food for the whole family to enjoy. The tables in the HUB were decorated with holiday colors and flowers, such as poinsettias.
Different music groups of orchestra, bands, and choirs from MTHS and other local schools throughout the Edmonds School District collaborated on a positive show for everyone to see. Throughout the performances, pictures with Santa were taken with a festive winter background in 4-by-6 or 5-by-7 sizes for $7 and $10 respectively.
The MTHS Orchestra performed first, led by Jennifer Schillen, playing the much loved "Rockin' Around the Christmas Tree," "The Hanukkah Song," "Carol of the Bells/Greensleeves," and many more.
Throughout the morning, there was a full lineup of different orchestra, band and choir groups from Martha Lake Elementary School, Edmonds Woodway High School, Hilltop Elementary School, Cedar Way Elementary, Chase Lake Community School, Spruce Elementary, Terrace Park School and Brier Terrace Middle School.
The MTHS Wind Ensemble, Symphonic Band, Chamber Winds, and Jazz Ensemble bands all jammed together and played different Christmas carols, including We Wish You a Merry Christmas, Three Kings, Jingle Bells, and Silent Night, led by band director Darin Faul. Santa also tried to conduct the song Jolly Old St. Nicholas with the group that everyone enjoyed.
Junior Justin Truong, a clarinetist in Chamber Winds, said, "It was very fun and productive. I thought it helped the music department a lot towards our funds."
The last groups to perform were the MTHS choirs conducted by TJ Sullivan. The Accents sang Jingle Bell Rock, Let It Snow, and Noel Nouvelet. They were followed by Dynamics who performed Engel and Jingle Bells.
The class of 2016 held a "Silent Auction" upstairs near the concession stand. They sold the items at a fraction of the price and people could buy it for a price, bid or choose the "buy it now " option. The highest bidder at the end of the event were called and got the item.
This year featured various craft makers and vendors that sold different holiday gifts, including ornaments, decor and souvenirs. The class of 2014 sold Snowman Soup cocoa bags along with holiday cards, and they made around $120 throughout the day.
Junior Sarah Willhoite was set as a vendor at the event and sold her own handmade jewelry work. Some of her pendants are made out of glass that she found at Edmonds Beach.
"It was fun. I made $25 here so hopefully next year we'll have a bigger crowd. This is our first year with vendors," Willhoite said.