With the dinger sounding and the aroma of fresh cupcakes, Ivy Herold isn't far from the oven. Although most of her activates are fun hobbies; acting, singing, and being a pro at theater sports, are just a few that Ivy Herold is known for. She had quickly found her niche this year; baking.
With her love for culinary shows such as Cake Boss mixed in with her love for cupcakes, baking just seemed like the best fit for her. "I never was really into cooking at all. I actually used to hate cooking, but now I love it," said Herold. Baking is her true passion, but that isn't her only favorite thing to do. She was really interested in theater sports ever since her sophomore year.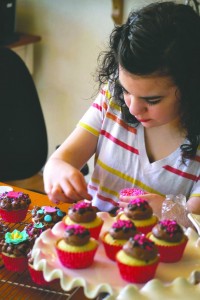 Alas, at the end of her junior year, she "got the guts" to try out and made it into the welcoming theater sports family. While up on stage during the competitions, the perspective of people's views can be greatly altered. Herold loves the fact that she can be "really weird" and "get to do stuff that I can't really do like in public". She believes that some of the things that the performers do on the stage to make a great performance could make somebody look odd in a normal school day.
During Herold's sophomore year of high school, she had landed a lead role named Helen O'Toole in the show "Exit the Body". She was also in the chorus for "All shook up" and "Back to the 80's". As a child, Ivy had gotten her inspiration for singing in musicals and acting from the kids who were singers and actors in high school that she had looked up to. While on the topic about acting, she stated, "I always knew that I wanted to try and see if I liked it."
Although she had begun singing at a young age, that's not the career choice that Ivy had in mind for her future. She is not completely sure what she will be going to school for, but she wants to go to BYU in Idaho for the winter quarter. If not there, then she'll try attending a community college around the area instead of moving to Ohio with her family. She is planning on either getting a business degree or a communications degree. The idea of baking for a career is going to be stuck in her head for a while though. The love of something can make someone want to try to make a career out of it and that might just happen for Herold. "I would someday like to open my own cupcake shop," said Ivy.
The thought of moving from the place that she went to for 720 days out of the four years that she attended is finally starting to hit her. She is going to miss the people and the environment more than anything at MTHS. Ivy is a "people person" and just loves to be around them.
Seniors may want to give future students and underclassmen some advice. Her advice for them is to "try not to procrastinate… and to just be yourself, no one really cares." Ivy Herold will soon be an amazing alumni to MTHS in just a few short days, living up to her legacy and keeping the baking and drama department alive. In a few years, there might be a cupcake bakery owned by Ivy Herold.
Story continues below advertisement