Mock election favors Obama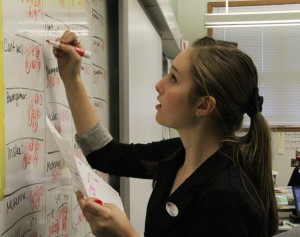 Some 851 students and teachers registered to vote in the mock elections, which are held every four years for the presidential elections.
Humanities teacher Chris Ellinger and his students manned the mock election voting booths in front of the theater on Nov. 6.
"Mock elections are an opportunity for students who can't legally vote to participate in a simulated election similar to the one the U.S. is involved in," Ellinger said.
Even though Ellinger helped and managed the mock election, it was all student directed – the students created the registration forms, went out and manned the stations during lunch, created the posters and the videos.
"We tried to mimic the challenges of running an election. The kids have done a great job. They're excited. They get frustrated, they get mad. People don't want them to have interest in it. Reality is, not everybody cares," Ellinger said.
The Snohomish County election office also provided six privacy voting booths, an official ballot box and "I voted" stickers to give to those who voted Tuesday.
| | | | | | | | | |
| --- | --- | --- | --- | --- | --- | --- | --- | --- |
| Candidate/Initiative | Total (computer) | Male | Female | 9th | 10th | 11th | 12th | Staff |
| # Voters | 510 | 255 | 247 | 114 | 170 | 138 | 74 | 14 |
| President | | | | | | | | |
| Obama | 388 | 179 | 197 | 85 | 127 | 110 | 55 | 11 |
| Romney | 119 | 66 | 48 | 34 | 37 | 29 | 18 | 1 |
| Senator | | | | | | | | |
| Cantwell | 350 | 172 | 187 | 79 | 111 | 103 | 50 | 7 |
| Baumgartner | 143 | 91 | 56 | 36 | 48 | 36 | 19 | 4 |
| Governor | | | | | | | | |
| Inslee | 312 | 145 | 167 | 68 | 92 | 97 | 46 | 9 |
| McKenna | 180 | 99 | 78 | 47 | 62 | 41 | 27 | 3 |
| I-1240 | | | | | | | | |
| Yes | 234 | 123 | 111 | 58 | 74 | 67 | 29 | 6 |
| No | 264 | 131 | 136 | 58 | 83 | 72 | 44 | 7 |
| I-502 | | | | | | | | |
| Yes | 262 | 129 | 125 | 59 | 80 | 79 | 36 | 8 |
| No | 230 | 118 | 111 | 58 | 80 | 55 | 33 | 4 |
| R74 | | | | | | | | |
| Approved | 382 | 167 | 207 | 89 | 120 | 106 | 56 | 11 |
| Rejected | 119 | 73 | 40 | 27 | 42 | 31 | 18 | 1 |