Jazz bands perform at the annual Jazz Symposium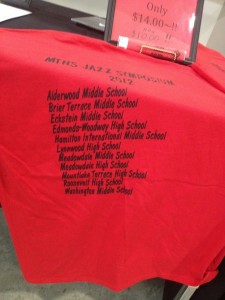 The MTHS Jazz Bands performed at the annual Jazz Symposium, held at MTHS on Saturday, Oct. 20.
Jazz Symposium is an annual event that MTHS hosts where schools from around Washington come together and play for clinicians and are assisted by professionals.
"The Jazz Symposium is an event we put on which includes a bunch of other schools and some of the area. It's just a fun get together," said by three year Jazz Band member Lauren Krienke, sophomore.
"It's not a competitive thing, it's more for clinicians to come and talk about how they played," said Kandin Neri, senior.
This year, Jazz Ensembles 1 and 2 performed three pieces each, both directed by Darin Faul.
Jazz Ensemble 1 performed "Harlem Airshaft" by Duke Ellington, "Sweet Georgia Brown" arranged by Sammy Nestico, and "Fables of Faubus" by Charles Mingus.
"Harlem Airshaft" included two solos by a junior trumpeter Alicia Smith and junior clarinetist Levon Kalustyan.
"Sweet Georgia Brown" included three solos, one by guest performer Todd DelGiudice on the alto sax, one by guest performance Rich Perry on the tenor sax, and one by Taylor Griffin, senior, on the piano.
"Fables of Faubus" had two solos by DelGiudice and Perry.
"I thought it was cool playing with the professionals because they could help lead the band and take charge," said Ryan Leppich, sophomore.
Jazz Ensemble 2 performed a different set, including "Shiny Stockings" arranged by Greg Yazininski, "The Red Door" arranged by Scott Ragsdale and  "Line Drive" by Carl Strommen.
Thor Peterson, junior, performed a complicated solo for "Shiny Stockings" on his trumpet.
"The Red Door" included an impressive Tenor Sax solo from Krienke.
Peterson and Krienke each had a solo in "Line Drive," the concluding song.
The Jazz Symposium consisted of many schools this year, among them Alderwood Middle School, Eckstein Middle School, Edmonds-Woodway High School, Lynnwood High School, and Roosevelt High School.
This year, the Terrace Jazz Bands didn't perform to be critiqued, rather they played with the headline group, along with a few guests from New York.
Nov. 10, 2012 the Jazz bands will be hosting the big event, "Swing Dance," which will be free to all veterans in uniform, and $5 to all others.
In upcoming weeks, the Jazz Band will be performing with Jeff Hamilton, the drummer of the jazz band and co-director of the Clayton-Hamilton Jazz Orchestra.
Toward the end of the year, the band hopes to return to New York to perform in Essential Ellington.