Bryan Wahl, new city councilman Q&A
Q. How long have you lived in Mountlake Terrace?
A. 15 years. I moved here in '97, but I grew up in Shoreline, so I'm very familiar with the area.
Q. What did you learn while on the city planning commission that prepares you for a job on city council?
A. What I'm finding now is almost 70 per- cent of what I'm doing and what I'm seeing and working on the city council now, I've already seen through the planning com- mission.
So, a lot of what I am now dealing with on the city council, we've been working on for years on the planning commission.
Q. What skills did working on the plan- ning commission give you?
A. Part of it is just knowing city policy and understanding what laws and regula- tions our city has been dealing with for years. Knowing what our vision is, what our city's goals are, what we are hoping to achieve, working with the public, the com- munity, and our constituents in coming up with a plan. I'm not sure I necessary learned it on the planning commission, but certainly being part of planning com- mission was important in being part of the collaborative body, learning how to work together to achieve a common goal.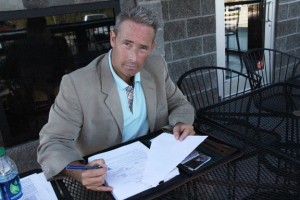 Q. What's the most important thing you have accomplished on the planning commission?
A. The comprehensive plan and vision for the community.
Q. What do you hope to accomplish on city council? What are some of your main goals?
A. Implementing the comprehensive plan. Really, the key is the comprehensive plan establishes the vision for how the community is going to grow. And then what's important is that is not just another document that sits on the shelf, it is a living
breathing document that we as a council, and as a city, should be implementing. So everything that we're doing, whether it's through the budget, through the devel- opment regulations that we're adopting, everything that we're dong should be to facilitate the achieving our goals as we set out in the comprehensive plan.
Q. Why do you like the community of Mountlake Terrace so much?
A. I grew up in Shoreline. This area is home, it always has been and always will
be. I've traveled the world, I've traveled the country. There's a lot of amazing places out there, a lot of great places to see and things to do all around.
There's no better place in the world to be than right here in the Northwest. Mountlake Terrace and Shoreline, the area is beautiful, it's accessible. It's a great loca- tion, it's easy to get to the urban ammonites of the city of say of Seattle, Everett and Bellevue and Redmond and Kirkland.
Yet, we're still a suburban community and so we have still a quiet neighborhood atmosphere, which is nice to get away from the city atmosphere but still have easy access to it. Everything about living here, to me, is home, says home.
Q. One of the biggest issues in Mountlake Terrace is the civic center. What's your view on the matter?
A. Being involved in the planning com- mission, that was an important of our plan. The civic campus is one of the key significant anchors for creating a vibrant community. By putting that in place, that will draw more business to the area in our city center and in our town center. That's why to me, it's so important just because it's the anchor to a vibrant city.
Q. What do you like to do when you're not working?
A. I enjoy travel. I enjoy getting outdoors. I've been snow skiing since I was two, and waterskiing. And working out and exercis- ing.
About the Writer
Nick Fiorillo, Editor-in-Chief
Nick Fiorillo is the Editor-in-Chief of the Hawkeye and thehawkeye.org. This is Nick's second year of serving as editor. Last year, he led the Hawkeye in one of the organization's most dramatic transformations in decades, replacing the broadsheet newspaper with a feature based newsmagazine and an emphasis on online content.
Prior to serving as editor-in-chief, Nick was the local news editor during his sophomore year and was a staff reporter during his freshman year.
Nick was named as the 2014 Free Spirit Scholar from Washington state, and traveled to Washington, D.C. as the Washington state delegate to the 2014 Al Neuharth Free Spirit and Journalism Conference. He has received several state and national awards for journalism, including several JEA National Write-off Competition Awards. He was recently awarded the rating of "Superior" for Editorial Writing at the Spring 2014 JEA/NSPA High School Journalism Conference in San Diego, Calif.
His interests include journalism, politics, public policy, law and education. He plans on attending a four-year university and majoring in political science and social policy.
You can view his pressfolio here.
Twitter: @nick_fiorillo
LinkedIn: Nick Fiorillo