Freshman class ASB, "The Little 6"
By Erick Yanzon
September 27, 2012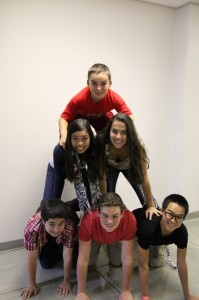 Since school started, petition for being a class ASB officer for the class of 2016 was available. Candidates need to have at least 10 percent of their class signatures in order to run for a position. Petitions were due Monday, Sept. 10. The election occurred the next day, Sept. 11, in the gym at 6:50 a.m.
During the election, there were only one person running for each position except for vice president. Each candidate gave their speeches to their class. Because not a lot of people attended the election in the morning, the voting process was held until lunches. After all the votes were calculated, the two running vice presidents had a tie. Freshmen Liya Ewing and AsiaLee Donnelly were both declared co-vice presidents. The rest of the officers are President Joey Owens, Secretary Sage Cameron, Treasurer Cody Bowman, and a solo representative, Gene An.
The adviser for the class of 2016 ASB is Jessi Walton, who was the former adviser for the ASB class of 2012 .
Attending their 1st ASB meeting Friday, Sept. 14, they introduced themselves to the rest of the student council. Everyone was surprised that there were only six of them, and that there is only one class representative.  ASB Secretary Erin Keating said, "Since there is only six of them, I think that they know they have to step up and represent their class well, and they are doing a great job."
They also attended their first ASB retreat last weekend, Sept. 22-24 at Warm Beach, Stanwood.
For this year's homecoming superheroes theme, the freshman class has Teenage Mutant Ninja Turtles as their motif. They have been working hard since day one of poster painting, spending their own time trying to make their hall amazing, and recruiting other students from their class to help out.
"I think that since the retreat, they have really grown as leaders and they have definitely shown it. I'm looking forward to their accomplishments they will achieve this year, like fundraisers and such. Even though I won't be here next year, I know that they will achieve a lot in their years to come. They are our Little Six," Keating added.