Business complex building at Cedar Valley Road on second-alarm fire
A Lynnwood business complex at 20016 Cedar Valley Road has been reduced to scorched wood after it caught fire on Wednesday afternoon, August 15.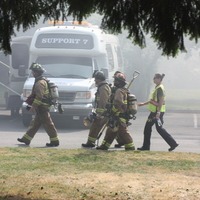 According to KIRO 7, the 911 call about the fire came in at 2:48 p.m., and when they arrived, they saw smoke and flames coming from the second floor of the building and quickly called in a second alarm.
Units from Snohomish co., Edmonds, Lynnwood, Terrace, Shoreline were also called for back up.
Fire fighter officials reported that everyone was able to get out of the building safely, and there were no injuries or fatalities.
The complex is occupied by several companies, including companies in dental and law, and medical and mortgage offices.
Lynnwood dentist John P. Wang was near the fire when it first broke out. "[My assistant] looked out the window and just saw a burst of flames from the office next door," Wang said.
According to LynnwoodKomo, as the building was partially built over Sprague's Pond, there was a worry that there was a possibility that the building could crash into the pond. But Cohnheim said that the foundation of the building was not compromised by the fire, so there was no threat of a collapse.
Traffic were also very heavy on 200th near the fire scene at 5 p.m. 50th Ave W traffic was being rerouted at 200th, and issues are expected to be a while.
The cause of the fire is still unknown as the investigation continues.
About the Writer
Nick Fiorillo, Editor-in-Chief
Nick Fiorillo is the Editor-in-Chief of the Hawkeye and thehawkeye.org. This is Nick's second year of serving as editor. Last year, he led the Hawkeye in one of the organization's most dramatic transformations in decades, replacing the broadsheet newspaper with a feature based newsmagazine and an emphasis on online content.
Prior to serving as editor-in-chief, Nick was the local news editor during his sophomore year and was a staff reporter during his freshman year.
Nick was named as the 2014 Free Spirit Scholar from Washington state, and traveled to Washington, D.C. as the Washington state delegate to the 2014 Al Neuharth Free Spirit and Journalism Conference. He has received several state and national awards for journalism, including several JEA National Write-off Competition Awards. He was recently awarded the rating of "Superior" for Editorial Writing at the Spring 2014 JEA/NSPA High School Journalism Conference in San Diego, Calif.
His interests include journalism, politics, public policy, law and education. He plans on attending a four-year university and majoring in political science and social policy.
You can view his pressfolio here.
Twitter: @nick_fiorillo
LinkedIn: Nick Fiorillo