Extreme Makeover: Firefighters Memorial Park Edition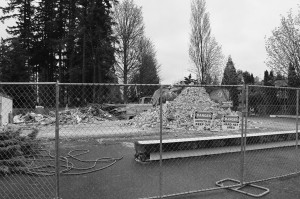 Karla Frankenberg is reminded of happy memories when she sits on her deck and sees and hears the kids playing at Firefighters Memorial Park. "I used to always take my grandkids over there, Frankenberg said." Frankenberg is a member of the Subcommittee of the Parks of Mountlake Terrace, and has played a huge role in deciding the future of Firefighters Memorial Park.
Firefighters Memorial Park, located at 3900 228th St S.W., has always been behind Fire Station 18 in Mountlake Terrace. In Dec. 2010, Fire Station 18 was moved to a new facility in Brier. Now after nearly a year and a half, the old facility in Mountlake Terrace is being demolished to make room for an expansion and renovation of the Firefighters Memorial Park.
"We looked at a couple of possibilities, but because it was going to cost us too much … to retrofit [the old fire station] for earthquakes, to get rid of any hazardous materials, rewiring or piping. It would make more sense to actually take it down and expand the park," Mountlake Terrace Parks Services and Property Management Superintendent Ken Courtmanch said.
The demolition of the old fire station is currently under way. The demolition, which is being completed by general contractor Skycorp Ltd, will cost the City of Mountlake Terrace about $65,000.  This demolition process will take an estimated two months to complete according to Will Van Ry, Engineering Services Director for the city of Mountlake Terrace. The park will remain closed during the demolition. "We're going to close the park just for safety reasons and to make sure nobody gets too close to where the buildings are coming down," Courtmanch said.
After the old facility is demolished, the renovations and improvements to the park can begin. One of the goals of the renovations is to make the park more "open," according to Frankenberg. This will be done by revamping the parking lot and bringing the park forward. Courtmanch said the current pieces of the existing play equipment will be painted and moved forward.
The renovations will also include some new features for park-goers. Coutmanch said one of the new additions is "creating a trail system."  "I think they are going to buy another piece of equipment eventually…and expand the picnic area" Frankenberg said.
When you add up the costs for all these renovations, plus the demolition costs, it begins to get very expensive. But Courtmanch believes that the renovations in the beginning will not cost any more. "Most of it we're going to be able to do in- house at no cost," Courtmanch said. "In the future there may be further costs if we decide to, for example, put in a flag pole," he said. According to Courtmanch, these renovations will continue throughout the summer.
According to the City of Mountlake Terrace website "Firefighters Memorial Park was originally named Larry Egbert Park after a Mountlake Terrace Firefighter who was killed in a car crash in the early 1970's." Now, the park is called Firefighters Memorial Park to "honor all firefighters," according to its website. Courtmanch recognizes the importance of the park and its purpose. "The interest is in keeping the park's theme of a firefighters memorial park," he said
The park is first thing you see when you enter Mountlake Terrace from Brier while on 228th St. S.W. "I do think that it's going to make a real nice entry point coming in to the city," Courtmanch said.
About the Writer
Nick Fiorillo, Editor-in-Chief
Nick Fiorillo is the Editor-in-Chief of the Hawkeye and thehawkeye.org. This is Nick's second year of serving as editor. Last year, he led the Hawkeye in one of the organization's most dramatic transformations in decades, replacing the broadsheet newspaper with a feature based newsmagazine and an emphasis on online content.
Prior to serving as editor-in-chief, Nick was the local news editor during his sophomore year and was a staff reporter during his freshman year.
Nick was named as the 2014 Free Spirit Scholar from Washington state, and traveled to Washington, D.C. as the Washington state delegate to the 2014 Al Neuharth Free Spirit and Journalism Conference. He has received several state and national awards for journalism, including several JEA National Write-off Competition Awards. He was recently awarded the rating of "Superior" for Editorial Writing at the Spring 2014 JEA/NSPA High School Journalism Conference in San Diego, Calif.
His interests include journalism, politics, public policy, law and education. He plans on attending a four-year university and majoring in political science and social policy.
You can view his pressfolio here.
Twitter: @nick_fiorillo
LinkedIn: Nick Fiorillo