MTHS Mix It Up named model school for 2012-2013
By Erick Yanzon
April 28, 2012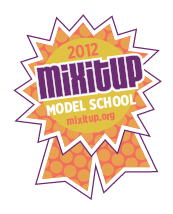 The Southern Poverty Law Center's Teaching Technology, a national civil rights group, has named MTHS as a Mix It Up Model School for the 2012-2013 school year and was recognized for its exemplary tolerance efforts to foster respect and understanding among students throughout the campus.
"We are delighted to recognize each of these schools," Teaching Tolerance director Maureen Costello said to Tolerance.org. "Mix It Up Model Schools have found innovative ways to create a school environment where respect and inclusiveness are core values. They serve as examples for other schools hoping to instill these values in their students, faculty and staff."
By sharing their recipes for success, Model Schools are beacons for other schools striving for inclusiveness. Terrace was one out of 77 schools nationwide to be selected for this honor.
For more than a decade, Mix It Up Day has provided students across the country with an opportunity to move out of their comfort zones and connect with someone new at lunch. It's a simple act with profound implications as studies have shown that interactions across group lines can help reduce prejudice. Many schools plan activities for the entire day and some use the event to kick off a yearlong exploration of social divisions. Last year, 5500 schools took part in the event.
Freshman Jannon Roque said, "I think [Mix It Up is] a good way to have the people in this school see new people. A lot of people participate and meet other students they probably wouldn't have met before."
The 2012 National Mix It Up at Lunch Day will be held on October 30.