Munch Madness 2011 is underway
[media-credit id=49 align="alignleft" width="368″]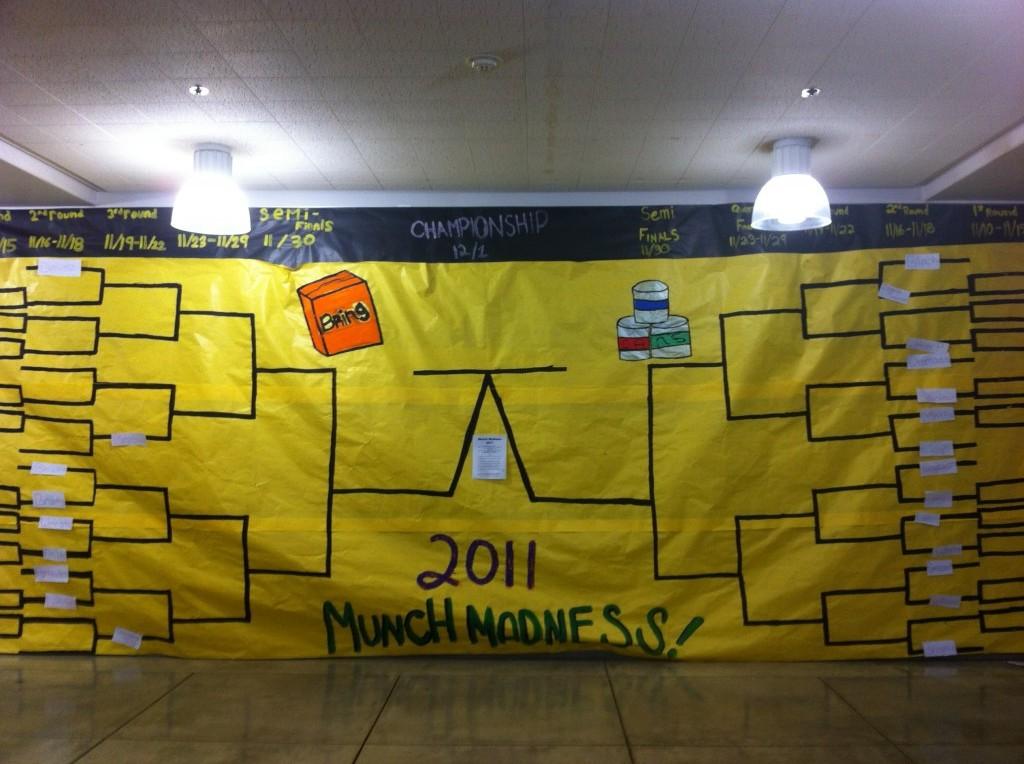 [/media-credit]
The 2011 Munch Madness bracket is posted between the locker rooms.
The weather is getting cold outside and that means the annual food drive at MTHS has started. This year, ASB and Interhigh has decided to change the format of the food drive to a single-elimination tournament called Munch Madness.
Well, what exactly is Munch Madness?
Munch Madness is based off of college basketball's March Madness. It is a tournament pitting third period classes against each other to try to collect more canned food and monetary donations than their opponent.  There are five total rounds with each round lasting two days. Each item counts as one point and the class with the most points at the end of each round advances to the next round.
At the conclusion of the tournament on Dec. 1, the winning class will receive a donut party and a trophy. The winner will be announced at the winter activities assembly on Dec. 2.
Although the format is new and unfamiliar to many, students and staff have begun to embrace Munch Madness. ASB and Interhigh have set the goal for the food drive at 30,000 pounds of food in 10 days. To encourage people to bring in canned food, the back of the HUB was blocked off with saran wrap. Students who usually sit in that area during lunch won't be able to until the area is completely filled with canned food.
In addition, the food drive is a part of the annual PPP (Pursuit of the Power Plunger) competition with Lynnwood H.S. However, in recent years, Lynnwood has defeated MTHS but hopefully this year's efforts will change that.
The Munch Madness competition began at Kentwood H.S. while blocking off a high traffic area of the HUB has been done at Cascade H.S. Both schools have run successful food drives for community members in the past. Canned food and monetary donations collected at MTHS will be donated to a local food bank in the community.