[media-credit id=62 align="alignright" width="614″]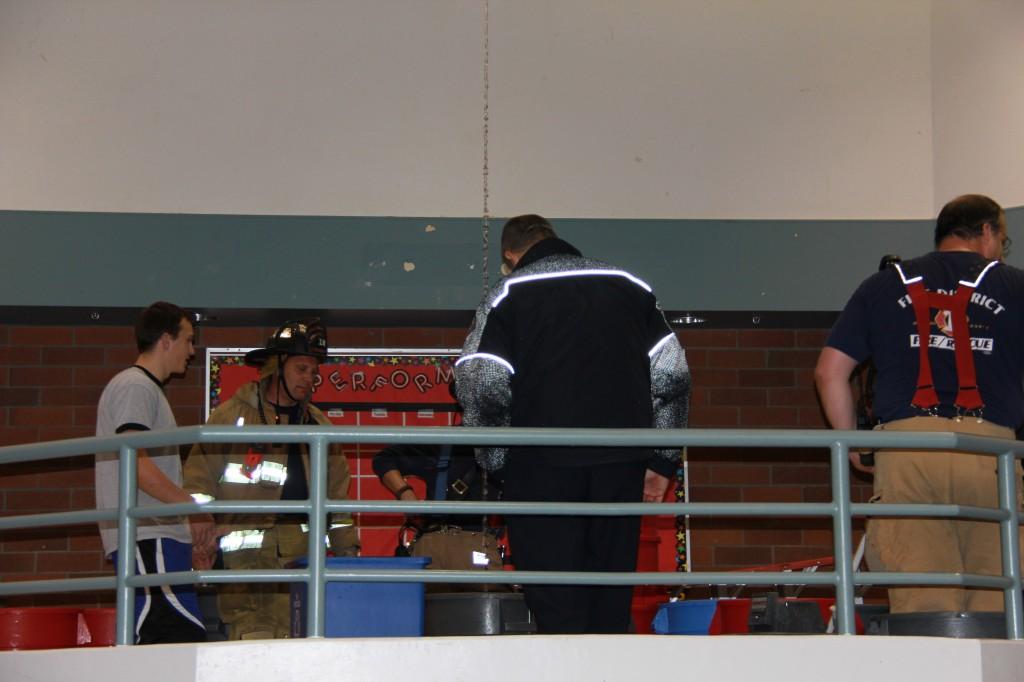 [/media-credit]The middle water sprinkler in front of the theater broke and began an evacuation of the school, at 1:15 Thursday, Nov. 17. At 1:30, the building was cleared for student reentry.
The official cause for the broken sprinkler was that head custodian Ron Loughton inadvertently broke the sprinkler while trying to replace some ceiling tiles.
"I didn't see it," Loughton said. Loughton was trying to avoid hitting the sprinkler on the left side of the theater and said did not notice the center one.
Inside the building, firefighters Crane, Preuninger, medic Linsey, inspector Narvarre, Dept. Chief Reading, and Chief Allison, along with several student volunteers, collected the water in trash cans and poured the water outside.
Senior Jason Layne was one of these student volunteers. "I counted 42 buckets," he said after the sprinkler had been plugged.
As the day continued, the flow of the sprinkler slowed down. Several firefighters left at 2:03 p.m. and by 2:13 p.m. a large ladder was put up for the custodians to plug the sprinkler. At 2:19 p.m. the sprinkler was finally sealed.
Assistant Principal Peter Schurke said that with the leak drained the whole building's sprinkler system, and that the system would be monitored until the system gets restored. Schurke also said that the water leak was the first real evacuation of the year.
Earlier today, Loughton had his ladder back up with a hose connected to the broken sprinkler depressurizing the system. By the end of the day Loughton said that a new sprinkler will be installed and the sprinkler system will be re-pressurized.[media-credit id=62 align="alignright" width="1024″][/media-credit]
Story continues below advertisement