In the world of athletics, winning and losing are small matters compared to the relationships that are built between players and coaches. Assistant coach Steve McCary has had many of those strong bonds with the hundreds of athletes he encountered during his seven-year tenure at Mountlake Terrace.
Prior to his time coaching at Terrace, McCary was the CEO at Stevens Hospital in Edmonds until 2004. After being away from hospital administration for seven years, McCary is getting another shot at it again.
"A friend of mine is building a new hospital in Virginia and he's asked me to come back and help coordinate the construction and run it once it's constructed," McCary said. However, the opening forced him to make a tough decision: take on the offer or stay at Terrace for another year. In the end, McCary chose the former option and said, "My wife and I've decided that at 55 years old, it's time for me to go do something like that. If I'm going to do it, I have to do it now."
Early Beginnings
McCary's coaching career took many different turns and twists, but every stop along the way brought him new experiences and new outlooks on life.
"When I was in college, which was a long time ago, I coached a sophomore basketball team at the high school where I went to college and the B-Legion [sophomore] baseball team in the summer, and played football. Really, really liked it," McCary said of his first coaching experience.
After graduating from college, McCary went on to pursue football, which he describes as his "first love." Soon enough, he found himself as an assistant for a few collegiate football programs spending two years at Lewis and Clark College in Portland, and a year apiece at Boise State University and the University of Oregon.
Following the short coaching stints, McCary returned to school citing the need to "get more serious about education." During that 20-year time period, McCary coached basketball and baseball for his own children until they were finished with their own schooling. Finally, McCary found his way into coaching basketball in the Terrace area.
"I was lucky enough to know somebody at the district office and they invited me to work over at Brier Terrace for a year," McCary said. After coaching eighth grade basketball for a season, he was bumped up to coaching freshman basketball at MTHS, thus beginning his time at Terrace.
[media-credit id=82 align="alignleft" width="300″]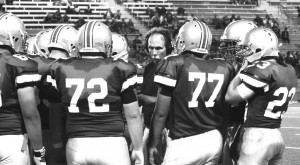 [/media-credit]
Story continues below advertisement
Assistant coach Steve McCary instructs the offensive line during a timeout.
Terrace Athletics
During the past seven years, the MTHS men's basketball program has been as successful as any program in the state. Part of that success came from McCary's ability to motivate and prepare players to perform at their peak potential.
Men's basketball coach Nalin Sood said, "He is very organized. I never had to ask him to do things twice and his work ethic was second to none."
Although he was originally hired to coach basketball, McCary's background in football enticed the MTHS football program to take a look. "I'm very pleased that I was able to snatch him away from just being a basketball-only coach to being able to coach both sports," football coach Tony Umayam said.
As offensive coordinator, McCary oversaw the steady improvement of the offense, which contributed to the football program's first playoff appearance in school history in 2009. "We were able to do a lot of things, offensively, that we weren't able to do before he came onboard," Umayam said. "I appreciate all the work he's put in."
One characteristic that people will remember about McCary is his intensity. On game day, there was no other coach on either sideline that rivaled his intense attitude. "He was as tense as about four or five players put together," Umayam said. With McCary, it was a major part of his dedication and preparation for the game and his players.
Aside from coaching basketball and football at MTHS, McCary was also the announcer at home volleyball matches. Although he admits he's not sure how he first got involved with volleyball. "I always want to be immersed in something like Terrace outside of just the simple nature of football or basketball," McCary said. "I wanted to know the student body. I wanted to be involved in other aspects than just football or basketball. I wanted to understand the life of these young people."
"Jiminy Crispin!"
The phrases "Goll darnit!" "Jiminy Crispin!" and "God bless America!" can be heard coming from the mouth of Coach McCary, especially when a play goes wrong. Players, like senior Mitch Haldane, still remember the first time they heard McCary's interesting choice of words. However, McCary's goal was always to pass on the life lessons he learned from his real-life experiences.
"I've tried to play a small part in their growth from boys to men," McCary said. "I have left seven groups or classes of young men that understand that I came to work prepared every day and made them better, both athletically and academically."
One way he tried to play a part of the growth of boys to men was by treating individuals differently, rather than by a uniform procedure. McCary remembers an event that occurred in his early years at Terrace.
"My second year or third year, we had an undefeated freshman team and we had two post players. One of them was an easy, in your face, as soon as you said something to him, he just gritted his teeth and just wanted to do it. The other one was exactly the opposite. If you said something to him, particularly the way I normally say it, then he just kind of crumbled and went into his shell," he said. From that point on, with the advice of his wife, McCary realized that when it comes to motivating players "one size doesn't fit all."
Words of Advice
As a coach and a parent, McCary worked with young men and women for many years. For student-athletes, his advice contains three fundamental pieces: academics, playing multiple sports and respecting your parents. He says academics are a major reason why athletes good enough to play beyond high school were not able to. Playing multiple sports lets athletes experience the camaraderie and the common goals that come in playing on multiple teams. Finally, McCary stresses the importance of respecting your parents, referencing one of his favorite sayings, "the older we get, the smarter our parents are."
A New Chapter
He isn't a teacher and doesn't have any children who go to MTHS, yet for the past seven years, he has spent as much time around the school as anyone. With the support and encouragement of his family, McCary was able to dedicate much of his time toward the MTHS athletic community. Terrace will be missing an influential figure, but the lessons that he leaves behind will still be present.
"Each one of my stops in life has had great upside and been wonderful experiences. Frankly, I couldn't think of any of them that I wouldn't do again. Terrace has been a very special place for me and my wife. I can't compare the last seven years to running Stevens Hospital. That's a difficult comparison because they're so dissimilar pursuits. I wouldn't trade the last seven years for anything," McCary said.