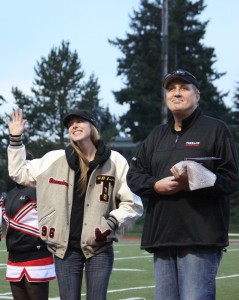 Francine Richardson, a 1996 graduate of MTHS, was inducted into the MTHS Athletic Hall of Fame during halftime at the homecoming game on Oct. 22 at Edmonds Stadium.
Richardson is the 23rd member of the MTHS Hall of Fame. In 1995 and 1996, Richardson won back-to-back WIAA 3A State Championships in high jump, as well as setting school records in both years. She is one of just two MTHS students to ever win multiple championships.
After her successful run in high school, Richardson moved on to compete in track and field at the University of Washington on a full scholarship.
"I knew I wasn't looking to go professional with track in any kind of way but it was my gateway to get to college," Richardson said of her collegiate experience.
"That five year scholarship wasn't bad."
However, her collegiate athletic career was cut short because of collapsing arches and tendonitis. Once she stopped doing track and field, she was able to focus on her academic pursuits.
Richardson said, "When I stopped doing track, I actually got my first 4.0 [GPA] in college." Richardson also earned two degrees in college.
Richardson has just recently returned to the Mountlake Terrace and lives within a few blocks of the school. She cites her family as a major reason why she came back.
"My dad passed away two years ago and he was my No. 1 fan. My mom needs a lot of help and my grandma needs a lot of help. They both live in the area," Richardson said.
Richardson's father was an important figure in her life. She said, "I'm always thinking am I doing something that would make my dad proud."
Story continues below advertisement
Richardson doesn't talk much about her past accomplishments, but she is proud of the way she has represented her family.
"To me, it's about making my family proud. I want to do the best for them. My friends, my family and my loved ones. Stuff like that is so cool," Richardson said of the honor. "It brings me back and takes me forward."
Though Richardson found success in athletic competition, work ethic, caring for others and self-worth are lessons that she still remembers – including serving as a Hawkeye photographer.
She has a final word of advice for student-athletes though. "Whatever it is, no matter what it is, if I don't know how to do it. I'm going to put my best effort into it," Richardson said.